The Weapon Crafting System refers to a system that allows player blacksmiths to craft weapons in Sword Art Online.
Mechanics
Edit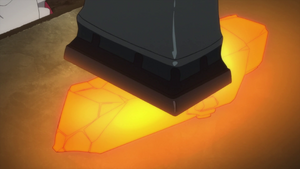 Before a weapon can be crafted, the "Production" option on the pop-up window of the blacksmith's furnace must be selected[1], then the blacksmith needs to put the chosen metal into the furnace for the material to be sufficiently heated[2]. The heated metal is then moved onto an anvil and the blacksmith can choose the desired weapon type via a pop-up window.[2] The metal must then be hit with the blacksmith's hammer a certain number of times, depending on the type of weapon and the rank of the material, before the metal takes the form of the chosen weapon type.[2] Once the manufacturing process is completed, the system assigns the appearance, which is influenced by the material used in crafting, stats and a name for the sword.[2] The strength of the crafted weapon is proportional to the number of hits that were needed during crafting.[3]
References
Edit
Ad blocker interference detected!
Wikia is a free-to-use site that makes money from advertising. We have a modified experience for viewers using ad blockers

Wikia is not accessible if you've made further modifications. Remove the custom ad blocker rule(s) and the page will load as expected.