Introduction
Happy Holidays, and a Happy New Year.
Apparently, this wasn't my first SacAnime. However, it was the first SacAnime I have been to to actually see «panels» and other festivities, rather than hang around the «Vendor's Hall». How about a breakdown of what I had done...?
Getting There
So I woke up at around 8:00am PST, knowing that that was the original time to leave for SacAnime. But, my brothers (2 of them) were still asleep, and I had to wake up the Driver (older brother) and inform him of the time so we could get a move-on. We were all ready, with my older brother in a male Ashford Academy uniform (Code Geass).
It took about half-an-hour to get to Downtown Sacramento, to the Sheraton Grand Hotel and Sacramento Convention Center (1400 J St.). We found a parking garage not too far away, just a few blocks down from the Convention Center itself. All of the parking garages near the vicinity had a flat rate of $5.00 for the entire day (per weekend day).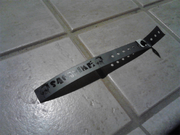 Registration was breezy. I also met up with a friend from school, who commented that SacAnime had less to offer in their program bags (you get these upon registration) with each SacAnime. Plus, you had to wear these plastic bracelets in order to move around.
Vendor's Hall
The first destination was the «Vendor's Hall». Sadly, I didn't get a picture of the vicinity, but I will assure you it's larger than a school gym (not your Gymnasium, Gsi). There were tables lined up, with people selling stuff from figurines and swords. I only bought one item, but it was completely worth it.
First Mistake
There was something special about this SacAnime. It was held on the birthday of the founder of my school's Anime Club. The sad thing is, my friends never found her there. Otherwise, it was because of the guest appearances of the «voices of Master Chief and Cortana» (Halo), as well as Master Chief's motion capture actor.
The mistake was that I had wasted about an hour waiting in a line for an autograph session for these individuals: Steve Downes, Jen Taylor, and Bruce Thomas. Their autograph session was three hours later. I got out of line, and decided to join my brother to see Downes, Taylor, and Thomas in their Halo Q&A panel.
Halo Q&A
My brother got a full recording, and even asked a question himself. I learned one thing about Jen Taylor: she had voiced Dr. Halsey as well! Though there weren't any more "fascinating news," the crowd had a great laugh.
"I need a weapon."

-Steve Downes as Master Chief
Hand at Halo 4
It was still an hour until I lined up to the autograph session, so I hit the «Gaming Room» with my friend, at the Sheraton Grand Hotel. I was so rusty in fact, I could barely score kills (last time I played Halo 4 was a few months ago, maybe half a year). Three rounds later, I left for the line to get the Halo Trio's autographs.
Long Line Indeed
You wouldn't believe how many stairs I ran up. Or ran down. But, along the way, I picked up a photo of a pretty legit ALO Kirito cosplay.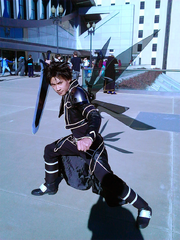 I also did a Cloud Strife (Final Fantasy VII) impression with his «Black Iron Great Sword». It brought a smile to his face. I continued on to find the end of the line for the autographing.
The line for the autograph session wound through and around the entire Convention Center's perimeter. Those stairs... I even grimaced when I had to walk up the flight of stairs into my room in my own house. The line filed down into the street, and it took well over an hour to get inside. Along the wait, I was able to busy myself with Pokémon Emerald on my phone, using an emulator...
There was also another line to wait once inside the autographing room. I found yet another friend from school, and we made small talk. Some other Halo fans were gathered, and we had discussions involving Halo and anime. Fun time...
Once there, I was only allowed signatures on two mediums. My brothers and I planned on having signatures on all four main series Halo games (Combat Evolved, 2, 3, and 4). So, I called my older brother and settled with signatures on CE and 4. I also took a picture with the three... (saved for later).
Gaming
Ahh, didn't even bother. My brother and the first school friend formed a team for the Halo 4 2v2 tournament, named «Team Lose». True to their name, they were eliminated in the first round, though they were very close to winning (3 kills away). The whole time, I was playing my friend's «Monster Hunter 3» (he let me have a save file to myself), but I was still angry that I did not have one extra "Aqua Sac" to make a «Ludroth Pair» dual blades.
I played MH4 through an AMV (Anime music video) showcase. The songs didn't pique my interest, and none of the songs incorporated SAO in it anyways...
And now I'm home. Typing this up.
End
And, I finally have my hands on it... and then I only need to gather another $90 to get «Elucidator» and another $90 for «Dark Repulser» ($180 for both).
And, finally, the Halo Trio and me.
Other Stuff
Here are some sights I saw at SacAnime...
Ad blocker interference detected!
Wikia is a free-to-use site that makes money from advertising. We have a modified experience for viewers using ad blockers

Wikia is not accessible if you've made further modifications. Remove the custom ad blocker rule(s) and the page will load as expected.