Home
Talk

22
345pages on
this wiki
| | |
| --- | --- |
| | Spoiler Alert: This wikia contains details about future plotlines described in the light novels. Do not proceed unless you want to be spoiled. |
Welcome to Sword Art Online Wiki
This wiki covers the
Sword Art Online
light novels and related media.
Introduction
A huge castle made of stone and steel floating in an endless sky.
That was all this world was.
It took a vagarious group of craftsmen one month to survey the place; the diameter of the base floor was about 10 kilometers — large enough to fit the entirety of Setagaya-ku within. Above, there were 100 floors stacking straight upwards; its sheer size was unbelievable. It was impossible to even guess how much data it consisted of.
Inside, there were a couple of large cities along with countless small scale towns and villages, forests and plains, and even lakes. Only one stairway linked each floor to another, and the stairways existed in dungeons where large numbers of monsters roamed; so discovering and getting through was no easy matter. However, once someone made a breakthrough and arrived at a city of the upper floor, the «Teleport Gates» there and of every cities in the lower floors would be connected making it possible for anyone to move freely through these levels.
With these conditions, the huge castle had been steadily conquered for two years. The current front line is the 74th floor.
The name of the castle was «Aincrad», a world of battles with swords that continued floating and had engulfed approximately six thousand people. Otherwise known as...
Episode 11 Preview - Morning Dew Girl
Sword Art Online (ソードアート・オンライン, Sōdo Āto Onrain?) is a Japanese light novel series written by Kawahara Reki and illustrated by abec. The series is published by ASCII Media Works under Dengeki Bunko.
It will be adapted into an anime series by A-1 Pictures and will air on July 2012. The series has also been adapted into a manga series, with illustrations by Nakamura Tamako. A game is in the works.

Featured Article
Kirito (キリト, Kirito?) is the protagonist of the Sword Art Online Light Novel Series. He was one of the 1000 Closed Beta testers for «Sword Art Online», the first ever VRMMORPG for the NerveGear.
His real name is Kirigaya Kazuto (桐ヶ谷和人, Kirigaya Kazuto?).
Helping out
Feel free to contribute to the wiki, just remember the following:
Light Novels take precedence over other forms of media.
Novels & Material Editions > Manga > Anime > Other
For people who wants to upload images, please save them in .png format.
Don't forget to add appropriate categories to any page you might be creating.
Be articulate.
Remember to use Template:Nihongo for names and terms.
Always add a Character Infobox when creating Character pages.
Iy you use content from other websites obtain permision, we don't want angry village people with torches.
A page can only be linked once per article. The first mention should be linked to the said article. For example, the first mention of Kirito in an article should be linked, while the second mention of Kirito shouldn't be.
Use the following spellings for the character names:

Kirito
Asuna
Klein
Agil
Lisbeth
Silica
Kuradeel
Heathcliff
Franchise News
Loading RSS data...
Latest Novel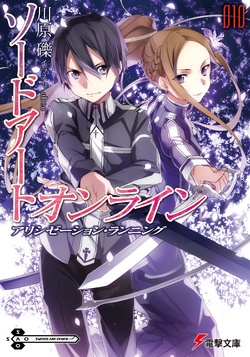 Alicization Running
Released July 10, 2012
ISBN 4-04-886697-4
ISBN 978-4-04-886697-2
Latest Episode
Morning Dew Girl (朝露の少女)
Asatsuyu no Shōjo

Aired September 15, 2012
Poll
Who is your favorite character from Sword Art Online?