Home
Talk

26
579pages on
this wiki
| | |
| --- | --- |
| | Spoiler Alert: This wikia contains details about future plotlines described in the light novels. Do not proceed unless you want to be spoiled. |
Welcome to Sword Art Online Wiki
This wiki covers the Sword Art Online light novels and related media.
It is that time, if you were here last year you know what I mean, The Sword Art Online Birthday Extravaganza! April 10, 2009, Sword Art Online was released and this month we take the time to celebrate that fact because this is the series we love. So, as is customary I made a speech located here.
I figure Season 2 needs a bit more coverage on the front page, given that there are still fans who do not know yet. But yes, Season 2, titled «Sword Art Online II» was announced on New Years, and it has since been confirmed to start airing sometime in July. See our Season 2 FAQ thread for known information so far.
-TUSF
A huge castle made of stone and steel floating in an endless sky. That was all this world was.
It took a vagarious group of craftsmen one month to survey the place; the diameter of the base floor was about 10 kilometers — large enough to fit the entirety of Setagaya-ku within. Above, there were 100 floors stacking straight upwards; its sheer size was unbelievable. It was impossible to even guess how much data it consisted of.
Inside, there were a couple of large cities along with countless small scale towns and villages, forests and plains, and even lakes. Only one stairway linked each floor to another, and the stairways existed in dungeons where large numbers of monsters roamed; so discovering and getting through was no easy matter. However, once someone made a breakthrough and arrived at a city of the upper floor, the «Teleport Gates» there and of every cities in the lower floors would be connected making it possible for anyone to move freely through these levels.
With these conditions, the huge castle had been steadily conquered for two years. The current front line is the 74th floor.
The name of the castle was «Aincrad», a world of battles with swords that continued floating and had engulfed approximately six thousand people. Otherwise known as...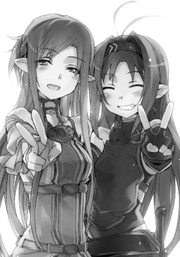 Asuna (アスナ, Asuna?) is a heroine and the partner of Kirito in the Sword Art Online series. She is the sub-leader of the «Knights of the Blood» guild in «Sword Art Online». Her real name is Yuuki Asuna (結城明日奈, Yūki Asuna?), and she is the daughter of the former CEO of RECTO Progress Inc. (Read More...)

Konno Yuuki (紺野木綿季, Konno Yūki?) was a player in «ALfheim Online». Known as Absolute Sword, she has won 67 duels consecutively, and created an 11-hit Original Sword Skill. She was the 2nd leader of the «Sleeping Knights» guild. (Read More...)
Feel free to contribute to the wiki, just remember the following:
Light Novels take precedence over other forms of media.
Novels & Material Editions > Manga> Anime> Other
For people who wants to upload images, please save them in .png format.
If you are uploading light novel or manga screenshots please include page and volume number in the title.
Don't forget to add appropriate categories to any page you might be creating.
Be articulate.
Remember to use Template:Nihongo for names and terms.
Always add a Character Infobox when creating Character pages.
If you use content from other websites, it's best to obtain permission. We don't want angry villagers with torches and pitch-forks.
A page can only be linked once per article. The first mention should be linked to the said article. For example, the first mention of Kirito in an article should be linked, while the second mention of Kirito shouldn't be.
For full list of SAO names see Official Naming, here is a common used name list

Kirito
Asuna
Klein
Agil
Lisbeth
Silica
Kuradeel
Leafa
Heathcliff
Additionally, if you wish to help out with any ongoing projects, you can check out the Jobs Board, and the Jobs Board Forum, to sign up for a project, and help out!
If you ever encounter an issue that you an editor can not fix the newly opened Admin Support may be able to address your problems, just contact one of our admins through the convenient threads already in place.
For images use the Image Guideline
What are you looking forward to in SAO this year?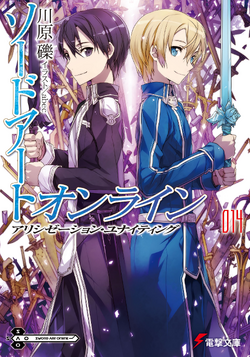 Volume 14
Released April 10, 2014
ISBN 978-4-04-866505-6
While we did reach 500 pages concerning the next admin elections, if the need for another admin arises we will consider having another election