Sword Art Online Episode 20
Talk

4
345pages on
this wiki
General of the Blazing Flames (猛炎の将, Mōen no shō?) is the twentieth episode of the Sword Art Online anime adaptation. It aired on November 17, 2012.
After Kirito and Leafa exit the cave and start flying, they notice the World Tree in the distance. Kirito then asks where the meeting will take place. Leafa points to the location and informs him that they only have 20 minutes to get there. Both increase their speed as they try to reach the Leaders in time.
On the way Yui detects 68 players, presumably the Salamanders attack force, and another 14 ahead of them, the Sylphs and the Cait Sith diplomats. Yui mentions that there are only 50 seconds before they make contact.  Admitting defeat, Leafa tells Kirito to go to the World Tree while she tries to save Sakuya, but Kirito rejects the plan.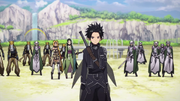 The Salamanders arrive and just as they are about to attack, Kirito lands with a boom and asks everyone to put away their swords. Leafa startles Sakuya, the leader of the Sylphs, and informs the party that their fates rely on Kirito, standing in between them and the Salamanders. Kirito then asks to talk to Salamanders' commander, identified by Sakuya as General Eugene, the brother of the Salamander's leader and the strongest player in ALO. General Eugene appears, greatly annoyed by Kirito interrupting their attack, but listens as Kirito tells him that he is an ambassador of the Spriggan-Undine alliance and that they are supporting the Sylph and Cait Sith's alliance. Kirito informs General Eugene that if he attacks them, there will be a war with the Salamanders and the 4 races. Eugene points out that Kirito does not have any guards and has "horrible gear" and states that he does not believe him. So to prove that he is as strong as he claims, General Eugene challenges Kirito to withstand his attacks for 30 seconds.
Eugene uses the sun's rays to blind Kirito and begins the first assault. Kirito attempts to block the Demonic Sword Gram, but fails due to Eugene taking advantage of his sword unique skill, «Ethereal Shift», which allows the sword to pass through swords and shields when the opponent attempts to block the attack, causing Kirito to get hit. But Kirito does not give up and retaliates. As they continue to fight, Kirito points out that 30 seconds have already passed but Eugene has already decided to change the rule to a deathmatch and continues to attack Kirito. Using his sword's unique ability, Eugene was winning the battle, so Kirito gets some distance between him and Eugene and summons a smoke curtain with magic. Taking advantage of the diversion, he borrows Leafa's Katana and gains altitude. Eugene clears the smoke screen and thinks that Kirito has ran away. With Kirito nowhere to be found, everyone, except Leafa, believes that Kirito has fled. Just then, Kirito surprises everyone as he soars down from the sky to clash against Eugene, surprising the general by drawing Leafa's katana right after he blocks Eugene's attack with his great sword, causing «Ethereal Shift» to lose its effect.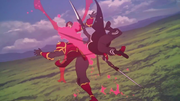 Taking advantage of his experience and proficiency in dual-wielding two swords from SAO, Kirito attacks fiercely and the General is not able to defend against the onslaught and counter-attack due to the limitation of «Ethereal Shift», combined with Kirito's god-like speed. Thus, Kirito wins almost instantly with the continuation of his attacks. Everyone was amazed by this battle, and cheers while appreciating Kirito's skills.
After the match, Sakuya revives Eugene (as requested by Kirito in the light novels) and, after being revived, Eugene  admits that Kirito is the best fighter he has ever seen. With that, Kirito thanks the General and asks if Eugene believes what he had said about the Spriggan-Undine alliance. As Eugene contemplates Kirito's claim, Kagemune appears, and misinforms Eugene that it was Kirito, together with an Undine, who wiped out their party yesterday. This act surprises Leafa but leads Eugene to believe the allegations. He expresses wanting to battle with Kirito again sometime and with this orders his forces to retreat.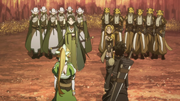 After the Salamanders depart, Leafa explains Sigurd's treason to Sakuya, and Sakuya expels him from the Sylphs. When the two leaders flirt with Kirito and ask him to join their respective forces, Leafa tries to stop them, but it is Kirito in the end who rejects both, and tells them about his need to reach Aarun fast. He gives them a heavy bag with a huge sum of Yurudo to help them prepare for the assault towards the World Tree. The Leaders thank Kirito and leave.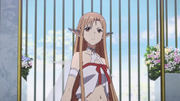 Leafa approaches Kirito as they see the Leaders leaving, but Yui pops out of his pocket saying that she is mad with her papa, because he was cheating. Yui mentions that his heart was beating faster when the Leaders were close to him, but he excuses himself by saying that he cannot avoid it because he is a man. With this, Leafa asks what Yui thinks about her and is surprised to know that she is just okay. Kirito messes up by telling her that she is not like a girl, in a sense that it is easier to get along with her, so he starts gains altitude and calls Leafa to start travelling to Aarun to change the topic. Meanwhile, in the bird cage, Asuna wakes up and enters the code she memorized earlier to open the gate and leaves.
New Characters
Edit
Locations
Edit
Butterfly Valley, Neutral Territory
Abilities Used
Edit
Dual Blades (experience of dual wielding from SAO; not an actual skill in ALO)
Adaptation Notes
Edit
​In the anime, it isn't mentioned that dual wielding has been attempted by other players, but that no one is known to have managed to efficiently use the style in battle, as it is difficult for a person to manipulate 2 swords with both hands and have them working in sync.
Adapted from Sword Art Online Light Novel Volume 03
"Running away isn't my style" - Kirito