Sword Art Online Episode 12
Talk

0
347pages on
this wiki
Yui's Heart (ユイの心, Yui no Kokoro?) is the twelfth episode of the Sword Art Online anime adaptation. It aired on September 22, 2012.
November 1st, the 1st floor: «Town of Beginnings»; Kirito and family were having their breakfast at the guestroom of the church where Sasha and the children players resides in. Yui seem to have recovered from her panic attack earlier. Kirito and Asuna learn from Sasha that Yui have not been seen here before amongst Sasha's many walks around the town. While talking with Sasha about her duty of taking care of the kids in the first floor, they soon receive a visit from «Yulier»; a female player from the «Aincrad Liberation Force». After Yulier thanks Kirito and Asuna for punishing her fellow «Army» members, she told them that she came to ask for their assistance.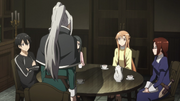 Yulier explain about the change in her guild was caused by the action of its former sub-leader: «
Kibaou
», whom was trying to overtake leadership over the «Army» guild away from a player name «
Thinker
». Kibaou was sentence to be punished after he cause the death of
Cobert
, when he order his group to go challenge the 74th floor boss by themselves. Before the judgement has been given, Kibaou contacted the Army's leader to meet face to face, and trick Thinker; sending him into a high-level dungeon unarmed without any armor or weapon. Once Yulier heard about Kirito and Asuna, Yulier came to ask for their help. Kirito and Asuna have doubts about her Yulier's story, as it could be a trap. However after Yui state that Yulier is 'telling the truth'; Kirito chose to believe in her story as well and they agree to help. Kirito and Asuna hope the Yui would stay behind, however Yui wouldn't accept it and they are force to take her along as wel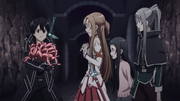 l.
Yulier explains about the recently found dungeon, in which Thinker is, and that there're strong monsters inside. While Asuna takes care of Yui, Kirito enjoys himself killing all the monsters in his way. At the end he shows Asuna the frog meat he got and tells her that he wants her to cook it, but Asuna instead throws it away.
They finally arrive before the safe area in which Thinker is trapped, Yulier runs toward it, but Kirito notices an enemy and Jumps just in time to save her from being taken down by The Fatal Scythe. Yulier runs to the safe zone and they take Yui, while Kirito and Asuna discuss about fighting the strong enemy or fleeing. They decide to fight, but are easily blown away by just one attack, they can't stand up, and The Fatal Scythe is about to finish of Kirito, when suddenly Yui stands between them, her clothes change back to the ones she used when they found her in the forest and summons a huge sword that defeats The Fatal Scythe in one blow.
Back in the safe area, Yui explains that she's a program focused on studying and monitoring the psychological state of the players, but she was unable to do so because she was blocked by the Cardinal System. She only saw hate, rage and desperation in the players, until she saw Asuna and Kirito, so she decided to meet them. She explains that she's going to be deleted by the Cardinal System for not obeying its orders and says her farewell to Kirito and Asuna.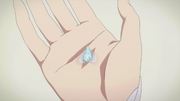 Kirito takes the keyboard in the GM access found in that safe zone and manages to save Yui's program by transforming it into an in-game object and storing the information in his Nerve Gear's local memory. On the way home, Kirito and Asuna talk about recreating Yui after they escape from SAO.
New Characters
Edit
Named Monsters
Edit
Inventory
Edit
Adaptation Notes
Edit
Adapted from Sword Art Online Light Novel Volume 02