Sword Art Online: Hollow Realization Announcement Trailer
| | |
| --- | --- |
| | Non Canon: Some or all events and details given in this article, may be considered non-canon to the main story. |
This article is missing some information.
You can help by adopting it and adding the missing information.
Missing Information: Story, endings
This article is open for adoption.
Sword Art Online: Hollow Realization (ソードアート・オンライン -ホロウ・リアリゼーション-, Sōdo Āto Onrain -Horou Riarizēshon-?) is an Action Role-Playing Game (ARPG)[5] published by Bandai Namco Games for the PlayStation Vita (PS Vita), PlayStation 4 (PS4), and personal computers (PCs) as the fourth game adaption on console for the series. Unlike the previous games, Sword Art Online: Infinity Moment, Sword Art Online: Hollow Fragment, and Sword Art Online: Lost Song, Hollow Realization is set in a game-original Virtual Reality Massively Multiplayer Online (VRMMO) game, called Sword Art: Origin, which is based on the servers for the original Sword Art Online[6].
In the land known as Ainground, Kirito meets Premiere, a mysterious Non-Player Character (NPC) who has not been coded into the game. Kirito and friends vow to protect Premiere while uncovering the truth about her null coding. However, they must also contend with so-called Blue Cursor players now hunting NPCs whom cannot respawn after death, similar to the victims of Aincrad.
The game takes place after Lost Song in chronological order.[7]
Player will start from level one and work their way up. Parties of up to four characters can be formed[8].
Characters
Edit
The following characters have been confirmed as being included thus far:
There are also other less important characters in the game.
Promotions
Edit
CODE ZERO: Premiere
Edit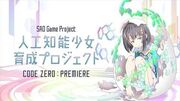 Artificial Intelligence Girl Raising Project CODE ZERO: PREMIERE (人工知能少女育成プロジェクトCODE ZERO:PREMIERE, Jinkō Chinō Shōjo Ikusei Project CODE ZERO: PREMIERE?) is a Sword Art Online: Hollow Realization spinoff game project that is being held from October 17, 2016 to November 30, 2016 on a special website. The players can participate in this game by providing their twitter account. The tweets posted by the account will then be analysed and used to shape the personality of Premiere, one of the characters in Sword Art Online: Hollow Realization, creating a personalized version of her. Players can also teach Premiere new words by having conversations with her. A future update to Hollow Realization after the end of the spinoff project will allow players to add their personalized version of Premiere to the game.[19]
Endings/Epilogues
Edit
This section is missing some information.
You can help by adopting it and adding the missing information.
This section is open for adoption.
Just like Infinity Moment and Hollow Fragment, Hollow Realization features multiple different endings, depending on which character the player allies with before the final boss fight. Particular character side stories need to be completed to unlock the ability to ally with the relevant characters for the last battle.
Asuna's Ending
Edit
Following Kirito to a hill overlooking a vast expanse of land, Asuna remarked on the beauty of the view. Declaring her happiness to be with him and accompany him on his explorations of Ainground, she reminisced on their adventures in Sword Art: Origin, thanking Kirito for making them possible. Asuna then asked Kirito if they really were going to stay together, concerned that his desire to pursue the potential of FullDive and the future thereof could distance him from her. Glad when he affirmed they would always remain at each other's side, she promised to support and follow him wherever he went, which he swore to her in turn, both vowing to be together forever.
Trophy List
Edit
Main article: Sword Art Online: Hollow Realization/Trophy List
Soundtrack
Edit
A
Sword Art Online -Hollow Realization- Soundtrack
is bundled with the game's limited edition on PS4 or PS Vita
[20]
.
External links
Edit
References
Edit