Sword Art Online: Hollow Fragment
Talk

0
569pages on
this wiki
| | |
| --- | --- |
| | Non Canon: Some or all events and details given in this section/article, may be considered non-canon to the main story. |
Sword Art Online: Hollow Fragment (ソードアート・オンライン -ホロウ・フラグメント-, Sōdoāto Onrain -Horō Furagumento-?) is a Role-Playing Game (RPG) developed by Namco Bandai Games for the PlayStation Vita (PS Vita) as the second game adaption on console for the series. It is set in an alternative Sword Art Online storyline, just like Sword Art Online: Infinity Moment. The game will be released on April 24, 2014.[1]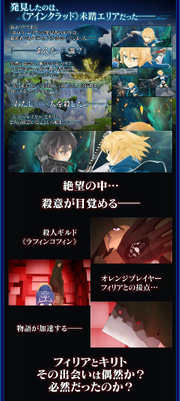 The game is divided into two parts: the first is the "floor clearing" chapter, which is basically the previous game, Infinity Moment, embedded into this game, and alongside that there is a new "Hollow Area" chapter, which includes parts that allow multiplayer gaming and has some new stories, as described below officially, which involves «Laughing Coffin» and a new orange player character, Filia.

発見したのは、《アインクラッド》未踏エリアだった――
新エリアである《ホロウ・エリア》の発見者のキリトは、
犯罪者である『フィリア』と出会ってしまった――

「―――あんた・・・誰?」
突然の出会い、斬りかかるフィリア。
フィリアはゲーム内で殺人者を示す『レッドプレイヤー』だった。
「先に進む」という目的が一致した2人は行動を共にすることになるが・・・

「わたし……人を殺したの……」
『レッドプレイヤー』とキリト。2人の出会いはここから始まった――

絶望の中…
殺意が目覚める――

殺人ギルド《ラフィンコフィン》

オレンジプレイヤーフィリアとの接点…
物語が加速する――

フィリアとキリト
その出会いは偶然か?必然だったのか?

Its gameplay system is similar to the Infinity Moment's gameplay system. However, a burst gauge, which allows continuous attacks as long as the player has enough burst energy left, was added to its battle system. Also, the system allows each player to create their own non-player character to battle alongside with, as well as linking up with a maximum of 4 other players who are playing the game on the PlayStation Vita to play the game simultaneously, allowing players to form their own raid teams. A region, called Hollow Area, that was added to the game is designated for such multiplayer gameplay.
Characters
Edit
Hollow Area
Edit
This article is missing some information.
You can help by adopting it and adding the missing information.
This article is open for adoption.
The region consists of six areas.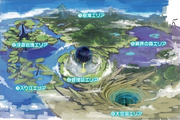 Detonator the Kobold Lord
The Hollowreaper
Amedi Star The Queen
The Shadow Phantasm
Content Inheritance
Edit
Infinity Moment
Edit
The player's skill proficiency and skill points: a certain value of proficiency point can be carried over. The proficiency portion of skill points can be possessed.
The player's character's skill combination (learn/palette): will be reset, but some skill points would be given.
The player's character's equipment and belongings: only those equipped will be transferred.
Other players' AI info: inherited directly
Heroines' AI info: inherited directly
Gallery: inherited directly
Remains heart: the possessed portion will be inherited (max. nine)
Bonus obtained from clearance of the previous game: if users transferred from a cleared game save, an accessory would be given.[2]
External Links
Edit
References
Edit
↑ As stated on the game's official homepage