Sakuya
Talk

0
689pages on
this wiki
| | |
| --- | --- |
| | Spoiler Alert: This article/section contains details about future plotlines described in the light novels, not covered in the anime. Do not proceed unless you want to be spoiled. |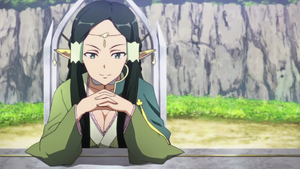 Display Name[?]
サクヤ (Sakuya)
Lady Sakuya (サクヤ, Sakuya?) is the Lord of the Sylph race and an exceptional swordswoman. She was elected as the leader of the Sylph race by popular vote (80% voice of the vote[1]). Her statistics are not very high due to her status as a Lord not allowing her to do much training. Despite her low stats, she is a formidable opponent in the Sylph dueling tournaments.
Appearance
Edit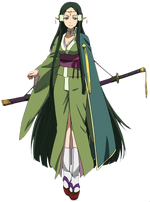 Sakuya has a beautiful slender straight posture, with waist-length green hair so dark that it is nearly black.[1] She has pale white skin, slightly slit eyes, a high nose, and thin lips.[1] According to Leafa her beauty is like the beauty of a finely honed blade.[1] Sakuya wears long Japanese style clothes that hug her body, while a katana hangs from her obi.[1] Her delicate white feet in high crimson clogs peek out from beneath the hem of her clothes.[1]
Her three sizes are 88-62-85.[2][† 1]
Chronology
Edit
During a meeting with the Cait Sith, she is attacked by Salamanders led by General Eugene. At the same moment, Kirito flies in to challenge the general to a duel. After Kirito wins the battle, she attempts to seduce him along with Alicia Rue. Leafa smothers their attempt, saying that she is accompanying him to the World Tree. At the end of the arc, Lady Sakuya leads a combined force of Cait Sith and Sylph against the World Tree's Guardians in an attempt to aid Kirito with the battle. After Kirito reached the top of the World Tree, she ordered her forces to pull back.
New Aincrad
Edit
It is mentioned that she had visited Kirito and Asuna's house at the same time as General Eugene and that the atmosphere during the visit was quite tense.
See: Sakuya/Image Gallery
Sakuya and Alicia tend to go on trips in reality.[2]
↑

Based on the web version. May be outdated in the published version
References
Edit