This article is missing some information.
You can help by adopting it and adding the missing information.
Missing Information: Chronology
This article is open for adoption.

Rosalia (ロザリア, Rozaria?) is one of the 10,000 players who were trapped in «Sword Art Online» as well as the leader of the orange guild: «Titan's Hand», she was caught by Kirito and sent to the prison managed by «The Army».
As the leader of the guild, and in order to maintain her "green" status, she looked for victims and lured the players to a place where the other members of the guild would attack and loot the player, while she maintained her «green cursor» to avoid suspicion.
Appearance
Edit
Rosalia is a slim[2] woman with purple eyes,[3] deep, flame-red hair[4] in wild curls,[5] a flock of which covers her right eye,[3] and lips of the same colour.[4] She wears black armour that shines like enamel and wields a slim, cross-shape spear.[4] She also wears an earring on her left ear.[3]
Personality
Edit
Rosalia is a sly woman who uses her beauty and charms to attract potential victims for her guild to ambush or try to sweet-talk things out when she is in trouble, like when Rosalia futilely attempted to convince Kirito to form a party with her instead of sending her to prison.
Chronology
Edit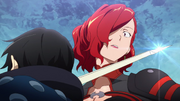 She and her guild led an attack against another guild «Silver Flags», leaving only the leader alive. The leader of Silver Flags had begged Kirito to send her to the «Black Iron Palace» dungeon, to which the latter accepts. A few days later, Rosalia tails Silica who is on a quest to get the «Pneuma Flower», waiting for an opportunity to ambush her and steal the precious flower. Kirito sees through the surprise attack, and Rosalia orders her men to attack the Black Swordsman. However, the attempt to murder Kirito fails, and he sends her guild into the dungeon with a Corridor Crystal. Rosalia tries to persuade Kirito to form a party with her, but he ignores her pleas and sends her headfirst into the dungeon.
References
Edit
Ad blocker interference detected!
Wikia is a free-to-use site that makes money from advertising. We have a modified experience for viewers using ad blockers

Wikia is not accessible if you've made further modifications. Remove the custom ad blocker rule(s) and the page will load as expected.