Quest
Talk

0
526pages on
this wiki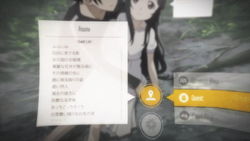 A Quest (クエスト, Kuesuto?) is an NPC-initiated event that typically leads to a reward after fulfilling a series of set conditions. Certain quests are given via a bulletin board, instead of an NPC.[1]
Repeatability
Edit
In Sword Art Online, most quests can be completed repeatedly, however, most such quests have a "cooldown time" after the quest is completed before it becomes available again, though certain quests, usually the ones offering high-value rewards, can only be completed once[2].
Initiation and Progress
Edit
Initiation of an NPC-given quest begins by interacting with NPCs that have a gold «!» symbol above them. Usually, a phrase like "Is something troubling you?" is used to accept a quest from an NPC, though this isn't the only possible variant and it's not applicable to all quests[3]. Certain quests might also require certain conditions to be met, like accepting an offer for a cup of water, before the quest can be accepted[3]. After a quest is initiated, the respective NPC's gold «!» will change into a «?», denoting a quest in progress; however, the quest will not progress unless the quest giver's entire speech, which tends to be rather long during certain quests, is heard[3][2]. Certain quests have side-objectives that need to be completed before the final objective becomes available. All currently available objectives are displayed as golden «!» on the map, while the final objective that is currently unavailable is displayed as a grey «!» on the map[1]. Once a quest is accepted, the quest appears in the player's quest log with information on the current progress of the quest.
Quest Generation
Edit
The Cardinal System in Sword Art Online and ALfheim Online comes with a feature called «Automatic Quest Generation Function». With this feature, the Cardinal System automatically collects folklore and legends of the world, adapts it for the game and continues to generate infinite amounts of quests using proper names and story patterns. These quests can also lead to an "end of the world" event or one that greatly changes the terrain of the world, as the Cardinal System was given authority to change the world of Aincrad to its discretion, seeing as the world was meant to be destroyed in the end anyway. This feature has usually been disabled in ALfheim, but if activated from the management side, the Cardinal System seems to retain the authority of changing the world to its discretion without even getting permission from the management team. Examples of such quests are the Excaliber Quest in ALO and the «Witch of the West and the Three Treasures» quest in SAO.
Due to this feature, just those known SAO quests in the quest database of the information shop exceed 10,000 by the time the 75th Floor is reached.[1][4]
List of Known Quests in Sword Art Online
Edit
| Floor | Quest Name | Description | Reward(s) |
| --- | --- | --- | --- |
| 1 | «Cows of the Counterattack»[5] | Unknown | Cream |
| 1 | «Secret Medicine of the Forest»[3] | Obtain a rare drop from Little Nepents. | «Anneal Blade» |
| 2 | «Martial Arts» Extra Skill Quest[6] | Break a demonic rock with one's bare hands. | «Martial Arts» Extra Skill |
| 3 | Guild Formation Quest[7] | The completion of this quest is required for players to form their own guilds. | |
| 3-9 | Elf War Champaign Quest[8] | Includes 10 chapters of quests on the 3rd Floor alone. The campaign consists of a total of tens of quests. This is the first campaign quest in Aincrad and likely ends with the Dark Elf Queen's Quest. | |
| 6 | Meditation Extra Skill Quest[9] | Unknown | «Meditation» Extra Skill |
| 9 | Dark Elf Queen's Quest[10] | Unknown | Queen's Knightsword |
| 22 | «Witch of the West and the Three Treasures»[1] | Defeat the Witch and save Dorothy. Includes 3 optional side-objectives to obtain the «Scarecrow»'s brain, the «Tin»'s heart and the «Lion»'s courage, but these quests aren't necessary for the completion of the main quest. The 3 NPCs accompany the players throughout the quest. The quest is based on the Wizard of Oz. | Ability to purchase Forest Home |
| 30 | Ogre Slaughter Quest[1] | A slaughter quest to kill ogres wearing strange masks. Repeatable once per week. | |
| 55 | Frost Dragon Quest[2] | Confronting a Frost Dragon with the presence of a master smith to acquire a rare material. | Secret reward: Crystallite Ingot |
| Unknown | «Angel's Ring»[11] | Surpass trials set by a holy angel. One of the parts includes fighting a giant fluffy demonic monster type bunny with wings. | Ring of Angel's Whisper |
List of Quests in ALfheim Online
Edit
Excaliber Quest
Beast God Slaughter Quest
«Angel's Ring» (imported from Sword Art Online with changed difficulty)
References
Edit