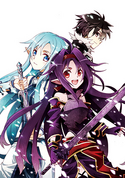 Sword Art Online - Mother's Rosario (ソードアート・オンライン マザーズ・ロザリオ, Sōdo Āto Onrain Mazāzu Rozario?) is a manga adaption of the Sword Art Online light novel series by Kawahara Reki. This adaption covers the Mother's Rosario story of the original series, which is composed of Volume 7 of the light novel. The ongoing manga is illustrated by Hazuki Tsubasa and published as part of the bi-monthly Dengeki Bunko Magazine. It continues the story of the Calibur manga, although the Calibur manga began serialization later than Mother's Rosario, while the events in the Alicization Arc take place after it.
Vol.
Ch.
Title
Magazine Publication Date
1
1
Stage.001
June 10, 2014
2
Stage.002
August 9, 2014
3
Stage.003
October 10, 2014
/
Extra Episode [† 1]
N/A
2
4
Stage.004
December 10, 2014
5
Stage.005
February 10, 2015
6
Stage.006
April 10, 2015
7
Stage.007
June 10, 2015
/
Extra Episode
N/A
TBA
8
Stage.008
August 8, 2015
9
Stage.009
October 10, 2015
10
Stage.010
December 10, 2015
The English title given by the Japanese tankoubon has mistakenly written as series "Mother's Rosary", despite the light novel series and anime adaptation using "Rosario". Yen Press has chosen to use this title for the English release of the manga and light novel.
↑

A special new chapter about the duel between Kirito and Yuuki that was not present in serialization.
Ad blocker interference detected!
Wikia is a free-to-use site that makes money from advertising. We have a modified experience for viewers using ad blockers

Wikia is not accessible if you've made further modifications. Remove the custom ad blocker rule(s) and the page will load as expected.