| | |
| --- | --- |
| | Spoiler Alert: This article or section contains details about plotlines not covered in the anime. Do not proceed unless you wish to be spoiled. |

Kashiwazaka Hiyori (柏坂 ひより, Kashiwazaka Hiyori?), known as Lux (ルクス, Rukusu?) in «Sword Art Online» (SAO) and «ALfheim Online» (ALO), and temporarily known as Kuro (クロ, Kuro?) in ALfheim Online, is one of the main characters in the Girls Ops spinoff. She was one of the 10,000 players trapped in «Sword Art Online», where she lost her best friend, Rossa.
Lux greatly admired Kirito for clearing the death game and thus looked up to his strength. After New Aincrad was released, Hiyori decided to play New ALfheim Online with a newly-created avatar, Kuro. The randomised avatar had a remarkable resemblance to Kirito's Sword Art Online avatar, she decided to get similar clothes and even attempted to imitate his dual wielding style in the game out of great admiration for him. Although she mostly used her second sword for parrying, she was able to reproduce One-Handed Sword Sword Skills with both swords to imitate Kirito's style.
When the Angel's Ring quest from Sword Art Online was implemented in ALfheim Online, Kuro immediately initiated the quest to obtain the Ring of Angel's Whisper due to a promise she had made to her friend Rossa in Sword Art Online. During the quest, Kuro encountered Leafa, Lisbeth, and Silica and became friends with them throughout the course of the quest. In the aftermath of the quest, Hiyori began attending the SAO Survivor School and started meeting her new friends in real life. She also decided to import her Sword Art Online avatar, Lux.
Appearance
Edit
ALfheim Online Avatar
Edit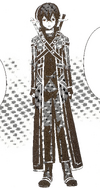 Although Kuro was randomly generated by the system, it greatly resembles the appearance of Kirito's Spriggan avatar: slightly long black hair and a delicate, feminine face with long elf ears. After noticing the similarity, Kuro chose to wear similar clothes to Kirito's: a black leather coat with a black shirt underneath and matching black gloves, pants and boots. She also uses two swords, similarly to how Kirito used Elucidator and Dark Repulser. Although the two swords that Kuro uses have similar features and colours to Kirito's swords, their design is much more plain.
Hiyori later changed her avatar in ALO to a version imported from Sword Art Online, Lux, whose appearance is nearly identical to her real life appearance, except for her long elf ears. Lux is a Sylph who has long, bright hair and wears a coat with an emphasis on the chest area, and boots. Her avatar also had a Laughing Coffin tattoo on the front of her upper left thigh, but the tattoo faded soon after her avatar was imported.
Personality
Edit
During her time in SAO, Hiyori was a person who was reluctant to trust others, until she met a girl named Rossa, who befriended her. However, after Rossa sacrificed herself to shield Hiyori from a lethal attack, Hiyori began to avoid people again, feeling that she did not want to lose anyone else precious to her. Though when she forgets about her decision to stay away from players, she is shown to enjoy the company of other people.
Hiyori is a protective and caring person, as shown by how she shielded Leafa, Lisbeth and Silica from a monster's attack and the first thing she asked them was whether any of them were hurt. It is also made apparent by the fact that she wishes to become stronger just so that she could protect everyone with her own strength.
Chronology
Edit
This Section is missing some information.
You can help by adopting it and adding the missing information.
This Section is open for adoption.
Kuro first appeared fighting a monster in an abandoned tower for the Ring of the Angel quest in New Aincrad. As the boss's HP bar closed to depletion, she was found by Leafa, Lisbeth and Silica, who had also come to defeat the monster for the quest. As the boss attempted to attack the girls with an Area of Effect (AoE) attack, Kuro blocked the attack and finished off the boss by using the monster's post-attack delay to deal the final blow.
While on their way back to the Angel's Rose Garden, Silica accidentally fell onto her after an earthquake, causing Silica to get embarrassed. Realising that she had not yet introduced herself, Kuro told the trio her name and revealed that she was actually a female. After reaching the Rose Garden and finding it in ruins, Kuro realised that she had gotten too close to the trio of girls and said that she would be heading on her own from that point on, as she had decided on not partying with other players. Kuro then went on to the room filled with slime. She was being overpowered, with her clothes' durability going down. The trio of girls then appeared to help her get rid of the slimes, eventually freeing the Angel and finishing the quest.
In the second volume, Kuro (now known as Lux) with Silica, Leafa, and Lizbeth, go and see the Master Tailor from SAO, Ashley, to get their clothes fixed. Ashley tells them he'll be willing to fix their clothes for 1 million yuld. Since the girls don't have enough money, Ashley proposes that they enter into a Swimsuit Contest, which has 1 million yuld as the prize money. The girls enter and do various things to get people's attention (such as selling Yakisoba Noodles or playing Volleyball). This plan fails to work and their place on the leaderboard drops. The girls then figure out they were supposed to do quests in order to get more points. Lux sees a girl crying and wonders if a little girl like her logged in on her own. When the girls approached the girl, and a quest notification popped up, thus the girls deduced the girl is an NPC. The NPC Girl tells them to help save her sister.
Lux, Silica, Leafa, and Liz are accompanied by the NPC girl and they find a quest exclusive cave. In the cave they find the NPC girl's sister in the grasp of a perverted jellyfish monster. The girls eventually manage to defeat it and Lux wins the Swimsuit contest (since she delivered the final blow to the jellyfish). The girls then head back to Ashely's shop to have their clothes fixed (with Lux scoring a new outfit for free).
Lux and co. are invited to have tea with Alicia Rue, Sakuya, and Sinon. They discuss the quest to get Excalibur and the recent Player Killers. This leads to the third volume where the girls encounter the thieves. The girls attempt to fight them but Lux has a chat with a person she used to know from SAO, Gwen. The next day Lux sends a message to Silica, Leafa, and Liz, saying that she's quit ALO. Silica, Leafa, and Liz encounter Gwen in game she informs them that Lux was a former Laughing Coffin member. Lux then appears behind them and tells them it's true. Lux and the other girls (excluding Gwen) go to Lux's house and she explains the reason that she was in Laughing Coffin. This leads to a flashback
At one point during her time trapped in Aincrad, shortly before the 50th Floor had been cleared, Lux had temporarily partied with a few other players in an attempt to clear a notoriously dangerous labyrinth on the 32nd Floor, which was rumoured to reward a rare item drop. Due to the numerous monsters and traps, her party became separated and she wandered into a teleporter trap that sent her into an Anti-Crystal Zone, where she was cornered by pig-like monsters. Paralyzed by the fear of death, Lux was unable to continue fighting, but before the monsters could kill her, she was saved by PoH and several other members of Laughing Coffin.
The group initially intended to kill her, due to the rest of her party apparently not having had any items of value, however PoH noted that they were down a town infiltration member (due to one attempting to leave the group, and so was "purged"). PoH offered Lux a choice: Join Laughing Coffin as an infiltration member, or be left in the labyrinth to die alone. A terrified Lux reluctantly choice to join the guild. PoH then left to meet with another section of the guild lead by XaXa, and the remaining Laughing Coffin members present branded Lux with her guild tattoo, using a Tattoo Knife.
As a town infiltration specialist, Lux had to buy supplies in town, find good hunting grounds, and keep tabs on rival guilds, such as Knights of the Blood, among other tasks that could only be performed by a green player. While performing these duties, she often met the leader of another orange guild associated with Laughing Coffin, an orange player by the name of Gwen, and the two became close.
In August 2024, Lux and Gwen were partied together to gather some specific item drops. After obtaining them, they returned to the Laughing Coffin hideout, only to find the Clearing Group's raid was underway. As they arrived, a single Laughing Coffin member fled the hideout telling them to run, but was quickly captured by Godfree and several other Knights of the Blood members. After they teleported him to the Black Iron Palace, they searched for the players he was yelling to, finding both Lux and Gwen. Due to Lux's green cursor, Godfree mistook the situation for Gwen having kidnapped Lux, and "rescued" her. Too scared to clarify that she was actually a Laughing Coffin member, Godfree and the others pursued the orange-cursored Gwen, who would not forgive Lux for her apparent betrayal.
After this, Lux decided to lay low for the remainder of her time in Aincrad, her only remaining friend being Rossa, who would herself perish before Aincrad was cleared.
Hiyori's newly created ALO avatar's name was derived from the first kanji in Kirito's nickname, The Black Swordsman (

黒の剣士

,

Kuro no Kenshi

?

), where Kuro means "black" in Japanese.
Hiyori, as her ALO avatar Lux, was introduced to the non-canon game Lost Song, where she is voiced by Akasaki Chinatsu, as a playable character.[1]
Two swords, named Hrunting and Weizen[citation needed] respectively, that are similar to Kuro's black and white swords make an appearance in Lost Song. Additionally, a sword, named Conscience[citation needed], that is similar to the sword Lisbeth gave to Lux also makes an appearance in Lost Song.
References
Edit
↑ 1.0 1.1 Dengeki PlayStation #589, via http://gematsu.com/2015/04/lux-seven-playable-sword-art-online-lost-song-upcoming-update
Ad blocker interference detected!
Wikia is a free-to-use site that makes money from advertising. We have a modified experience for viewers using ad blockers

Wikia is not accessible if you've made further modifications. Remove the custom ad blocker rule(s) and the page will load as expected.