Kirito
Talk

25
345pages on
this wiki
| | |
| --- | --- |
| | Spoiler Alert: This wikia contains details about future plotlines described in the light novels. Do not proceed unless you want to be spoiled. |
Kirito

Personal Information
Name (Kanji)
桐ヶ谷和人
Name (Romaji)
Kirigaya Kazuto
Display Name (Kanji)
キリト
Display Name
Kirito
Epithet

The Black Swordsman
The Twin Blade Swordsman

Age
14 (Beginning of Aincrad arc)
16 (End of Aincrad arc, Fairy Dance arc)
17 (Phantom Bullet arc)
Gender
Male
Height
172 cm (59 kg)
VRMMORPGs Played
Affiliation
Family
Occupation
High School Student
Media
Voiced By
Matsuoka Yoshitsugu (Japanese)
Bryce Papenbrook (English)
First Appearance
Novel
Volume 1 Chapter 1
Manga
Volume 1 Chapter 1
Anime
Episode 1
Kirito (キリト, Kirito?) is the main protagonist of the Sword Art Online light novel and anime series. His name, Kirito, was taken from his real name Kirigaya Kazuto (桐ヶ谷和人, Kirigaya Kazuto?). "Kiri--" from Kirigaya and "----to" from Kazuto. He was chosen as one of the 1,000 beta testers for the Closed Beta of «Sword Art Online», the first ever VRMMORPG for the NerveGear.
Appearance
Real World / Sword Art Online / Project Alicization Avatar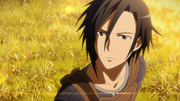 During the beginning of the game and during the beta-testing phase, Kirito's avatar had the appearance of a ridiculously handsome protagonist from some fantasy animation, looking older than he actually was. In the light novel, it was stated that he (and probably Klein, too) had set his in-game height equal to that of his height in the real world to prevent the extra height from hindering his movements. 
In the full version of the game, a few moments after Kayaba Akihiko informed the players that they were given a gift from him, which turned out to be a «Hand Mirror», all player avatars were changed to reflect their real life appearance. After this change, Kirito's SAO avatar had slightly long but neat black hair and black eyes. His delicate face showed no trace of masculinity, allowing people to easily mistake him for a girl[1][2].
After the initial stages, he becomes well known in SAO as the «Black Swordsman» (黒の剣士, Kuro no Kenshi?) due to his tendency to wear black clothing. His clothes in Sword Art Online consisted of black pants with a black belt that had a large silver buckle, a black V-necked shirt that was worn underneath a black trench-coat with gray lining going down the sleeves and black boots with silver plates to protect his shins. He has a silver plate worn on his coat, which was on his left side, and a pair of black fingerless gloves. He wears a strap, that goes over his right shoulder and under it to wrap around his left side, that holds at first just his Elucidator and then his Dark Repulser as well. He uses two swords after his Sword Skill «Dual Blades» is revealed, the black «Elucidator» and the white «Dark Repulser». He later donned the red and white uniform of the Knights of the Blood after being defeated by its leader Heathcliff in a public duel and being forced to join his guild.
In the real world he has a tendency to gravitate towards dark colored clothes.
In the beginning of Project Alicization, he wore a hand-sewn pale blue short sleeved shirt with a V-shaped cut on the chest which was tied with a light brown cord along with trousers and hand-sewn leather shoes. Two years later, after he became a valet in the Master Sword Academy, he wears the standard gray uniform, like all first years and non-elite swordsmen do. In the second year of the academy, after he becomes one of the 12 elite swordsmen in the academy and is allowed to choose a color for his uniform, he wears a pitch black uniform.
ALfheim Online Avatar

Kirito's initial appearance was that of a default «Spriggan», which he chose because of the race's black-themed equipment. Instead of the normal black forelocks hanging from his head, his black hair stood in natural spikes. His large eyes appeared mischievous, and he had pointy ears and dark grey-ish blue wings. He is equipped with a large broadsword, intended for larger players, like «Imps». He will occasionally dual wield using his experience from SAO.
After converting his avatar back from his brief stint in Gun Gale Online, he changed his previous spiky hair style into his old SAO style due to Yui's request. The reason for the request was that it was hard for her to sit on the spiky hair. His mischievous black eyes remain the same though. He also received a new coat and switched his broadsword with a new long sword.
In late December, 2025, he obtains the «Holy Sword Excaliber», and uses it as his second weapon when dual wielding, but only in extreme cases, as he promised to himself not to use the sword for personal gain.
Gun Gale Online Avatar
Kirito's avatar in GGO is the rare «M9000» type, which is speculated to be the result of an extremely rare occurrence of the system misinterpreting the player's brain waves (the system identifies the gender of the player via their brainwaves, but, on rare occasions, due to some impulse, it chooses the appearance of the opposite gender). It is an avatar that many male players dream of having, due to its female appearance. He retains his black hair, which now flows down to his shoulders. He has a pale skin and crimson lips, and shining black eyes, fringed by long eyelashes. If one did not know better, it would be easy to confuse him with a female. This often causes great confusion to people, such as Sinon.
He is equipped with a 5.7mm FN Five Seven handgun and «Kagemitsu G4» photon sword.
Personality
Kirito is someone who is not good with words, as said by Klein, and can be quite direct. This is due to him not having many friends and closing others off, because of his love for computers. As such, he can come off as a rude person to others, such as Lisbeth and Sinon. Sometimes, he actually seems to enjoy angering and teasing people as well. Also, from time to time, Kirito can be quite overconfident thinking he can do things others can not.
He is almost always a calm and collected character, rarely showing any signs of distress. When Kayaba Akihiko appeared in SAO and announced that it has become a Death Game, Kirito showed only a slight reaction and was able to quickly accept the new conditions of the game, while many others panicked. He has shown different moods throughout the series; at times being rather cheerful, while being gloomy at others. When in a battle, he becomes incredibly fierce and aggressive. Sometimes, his fierceness is up to the point where he loses control of himself and is even unable to recall what he had done.
However, Kirito is actually a kind person who is just misunderstood. Despite the general population opinion towards Beta Testers in SAO, he refused to abandon another player in trouble. This is only strengthened after the Black Cats of the Full Moon's demise. He also comforts others who are scared or down such as Silica after she lost Pina. He claims to help some female players in SAO because they remind him of his sister, who he feels to have forced into kendo and feels guilty for that. These kind of acts have earned him respect and affection from many girls. Kirito, unlike usual male heroes, is not very dense as he was able to tell that Lisbeth was going to confess to him, before Asuna interrupted.
Kirito is also a very emotional person and lets his emotions control him from time to time. The deaths of Sachi and Black Cats of the Full Moon had haunted him until his marriage with Asuna. Sachi's death in particular had a huge affect on his personality, and motives; making him very distant from others for a while. This worries his friends and allies as Kirito is someone who would let guilt ruin his life, if not comforted. Kirito temporaily loses his will to live when Asuna's character was killed by Heathcliff. He also tries to hide his abilities, not wanting unneeded attention.
A person with incredibly strong resolve, Kirito will do anything and everything in his power to accomplish something that's important to him, without any hesitation. When Asuna was being held in Alfheim, Kirito was bound and determined to set her free and, when Yui confirmed that she detected Asuna being at the top of Yggdrasil, he immediately tried to fly up to the tree, which had already been found to be an impossibe task, and tried to fight his way to the top by himself.
After escaping SAO, Kirito attempts to repair his relationship with Suguha, his cousin. This shows Kirito is now attempting to make up for his past mistake of ignoring her, showing a sense of maturity. Kirito, later in the series, is shown to be a calm and mature player who can be teasing as well (something that annoys Sinon to no end, her being his main target).
Background
Born on October 7, 2008, Kirigaya Kazuto was adopted by his aunt and uncle a year after his birth when his biological parents died in an accident. Raised by his foster parents as a son, he originally trained with his cousin in the neighborhood kendo dojo under their grandfather's tutelage. Due to his aunt's influence as an editor for a computer systems magazine, Kazuto fell in love with computers and dropped kendo after two years.
[3]
Kazuto has immense skill as a programmer, managing to build a computer from parts during elementary school, finding his erased records in the national registry at the age of ten, as well as managing to stop the SAO server from deleting Yui by converting her program into an object and storing her into his Nerve Gear as environmental data[3][4].
He currently lives at Kawagoe City in the Saitama prefecture with his family, adopted by his aunt and uncle after his parents died, though his uncle is often not around. He was raised as their son with his cousin as his sister. He was originally trained in kendo by his grandfather but had little interest in it, and as a result his sister began to cover for him.
Chronology
One of the lucky 1000 players accepted into the beta, Kirito logs hundreds of hours of playtime. He, along with the other top players, were able to reach the eighth floor before the beta had ended.
Shortly after logging in to the now fully released SAO, Kirito is stopped by a stranger.
Klein
, a new guy, asks for his help in learning how to play. After befriending each other and training in the fields for several hours, they are forcefully teleported back to the
Town of Beginnings
, to receive an announcement from Kayaba Akihiko. He reveals that the lack of a log out function, which they had recently realized, was a "feature" of his new game, and that forced removal of the Nerve Gear head piece from the other side will fry the person's brain using microwaves.
The only means to escape is to clear the game; that is, to successfully defeat all 100 levels of
Aincrad
and defeat the final boss. Kirito immediately grabs Klein and runs off, and after hearing that Klein will remain with his friends here, he leaves him and heads off to the next town.
Kirito spends the first day making his way to the next village. He has decided to complete a quest to obtain a new sword (of which he knows about by participating in the beta). During this quest he encounters another player, a beta tester named Coper, who proposes they form a party and complete it together. After a while, a trap monster appears and Coper purposely trips it. Kirito quickly realizes that Coper was trying to kill him and take the rare quest drop himself. Kirito manages to escape, but Coper, who does not know that his «Hiding» skill will not work in this situation, dies. This causes Kirito's mortality to heavily weigh on him.
One month into the game, 2000 people have died, and the first floor has yet to be cleared. Kirito encounters a player in the first dungeon and realizes that it was a female player. The player fainted, so Kirito carried her outside the dungeon they were in. He insisted that he only save her in order to save the map data which she later gave. But before she depart, Kirito suggest that she should go to the First floor Boss Strategy conference than going to the dungeon at Tolbana.
They arrive to Tolbana, but they momentarily part ways. Kirito soon met up with «Argo the Rat» and learns that the buyer of his «Anneal Blade +6» had raised his price to 29,800 «Col»; however Kirito again refuses the offer and wonders why the Argo's client was so persistent.
Kirito later finds and join the player from the dungeon, they both began to eat their bread. Kirito gives her a pot of cream and later explain how he obtain the item and offer to give tips on how to gain the item efficiently but was quickly rejected by the player, stating that she didn't come to the town to eat good food. Kirito question why she was in the town and listen to her explanation. After the clarification, Kirito begins to apology but was intruded by the clock bell. The player realizes that the meeting was about to start so they both head to the conference.
The next day, they both go to a meeting organized by a player named Diabel. Forty four people go to the meeting and decide to try to defeat the boss of the first floor. During the boss fight Kirito is put in support for the E group along with Asuna. They are in charge of clearing the mob monsters that accompany the boss. During the fight, Diabel dies, causing everyone to panic and Kirito to recognizes Diabel from the beta test. He reorganizes everyone to attack the boss again, with Asuna's help he gets a last attack and is awarded the Coat of Midnight. After the fight, many grieve the loss of Diabel and say that this is all the beta testers fault. Kirito then realizes that normal players must make peace with the beta testers and declares himself as a Beater, thereby isolating the hate directed at the beta testers to himself. Asuna and Agil, two of the clearers, were the only ones who understood his intention.
Kirito visits a town looking for a blacksmith to enhance his Anneal Blade to +7, he finds Asuna and both watch a discussion between two players, because one of them, the blacksmith, failed four consecutive times to enhance his weapon.
Kirito decides to help Asuna to gather more materials to enhance her Wind Fleuret, so they make a bet, which Kirito loses and has to treat her dinner, she chooses a restaurant that he knew, and after exiting, they find out that they got a luck buff, so he takes Asuna to the blacksmith to try to enhance, and although it had a 97% success, it failed and the weapon dissipated.
After calming Asuna and taking her to an Inn, he returns and follows Nezuha into a bar, where he encounters him talking to some friends about business and saying that it was good (contrary to all those failures). Kirito notices something and returns running to Asuna's Inn and enters her room abruptly, makes her materialize all her items, but at the end, he finds her Wind Fleuret.
With the approach of Christmas eve, all of the NPCs start talking about a mysterious monster which will appear on Christmas and drop rare items if defeated, causing players to look for clues regarding its future location but nobody finds a good lead. Kirito found Klein and talked to him for a while. They did not care about the boss until they learned that it will drop a resurrection item, so Klein started looking for Kirito for help on defeating this boss.
With the news, he remembers his time with Sachi and the Black Cats of the Full Moon and remembers how it all began, how he hid his higher level from them and helped them reach higher levels. One day Sachi ran from the group, Kirito used his Tracking skill to find her and formed some kind of relation with her, he made her forget her fear of dying and she helped him to clear his conscience from lying to the other members of the guild. One day the group decide to hunt for treasure while their leader, Keita, was off. They ignored Kirito's advice and activated a trap, causing a bunch monsters to surround them. Kirito survived due to his relatively high level, but the others were killed. He returned to the town and told everything to their leader, and the shock of the death of his companions caused Keita to commit suicide.
Kirito managed to find the area, but was followed by Klein and his guild, and then by the Divine Dragon Alliance guild. Klein and his guild stopped the other guild while Kirito fought Nicholas The Renegade. At the end of the fight, Kirito was barely holding off. He had not ever been so close to dead, but he won and obtained the Divine Stone of Returning Soul. However, to his surprise and frustration, the item only resurrected people within 10 seconds of their HP reaching 0, so it was useless for him. He gave the Divine Stone of Returning Soul to Klein and slowly walked back to the town. Klein tells him that he must not die, that he must beat the game and save everyone.
Upon encountering Silica in the Forest of Wandering, he saves her from a party of attacking «Drunken Apes». He apologizes for being unable to save Pina, her dragon, but tells her that it is possible to revive Pina. After explaining the process he gives some equipment to Silica and takes her back to the town. He talks with Silica during dinner and before sleeping, which is when he explains that he is helping Silica because she reminds him of his sister.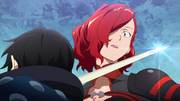 The next day, they depart to the 55th floor to find the Flower of Pneuma. On their way back, after find the flower but are ambushed by the members of the Titan's Hand Guild, who want the same flower. They attack Kirito but are easily defeated by his overwhelming skill. Finally Kirito reveals that he was looking for them because of a request from a leader of another guild those members were all killed, with the exception of the leader, by the Titan's Hand guild.
Kirito then threatens the bandits until they agree to voluntarily go to The Army's prison and he and Silica promise to meet again in the real world.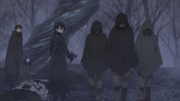 Kirito is taking a quick nap while enjoying the day because the weather was very good, but is interrupted by Asuna, who scolds him for wasting time while the other front liners are training, but he convinces her to lie next to him. Kirito wakes up and notices that Asuna is completely asleep, so he remains near to protect her. When she wakes up she gets angry but realizes what he has done and invites him to have dinner to call it even.
Generally speaking, you cannot kill someone within the safe zones (AREA). Two exceptions to this rule are known to exist: One is to challenge a sleeping opponent to an all-out duel, and move their finger to accept. The second is to drag a sleeping opponent outside of the safe zone, whereby they can be targeted normally. After watching a man be hung by a noose, then die from being impaled by damage-over-time, Kirito and Asuna begin investigating how that happened and why. This mystery touches upon the past of a long-forgotten guild, Golden Apple, and the reason behind the death of its female guild leader.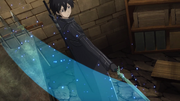 Kirito charges into Lisbeth's store after being introduced to the place by Asuna. He wants Lisbeth to create him a sword that is on par with his «Elucidator». After allowing Kirito to see her best sword, he breaks it during a test run. Thus, the two embark on a journey to obtain a «Crystalite Ingot» to forge what would eventually be known as «Dark Repulser».
After two years within SAO, Kirito is a clearer and is currently on the front lines which are now located on the 74th floor. He goes on a mapping run with Asuna, a friend of his and sub-leader of the Knights of Blood guild. Together they find the boss room. On the way back they encounter a unit of "The Army," who they assume will try to challenge the boss. They chase after them to try to convince them to stop, but the Army ignores their warnings and continue on. Once inside the boss room, the Army players realize that the room is an "anti-crystal area" so they can neither heal or escape.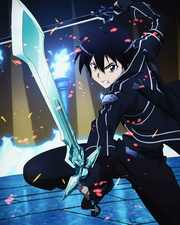 Upon arriving, Asuna impulsively runs in to help them, and Kirito quickly follows her. He is forced to activate his "
Dual Blades
" secret skill to save Asuna and the others. After the boss fight, word about Kirito's ability spreads throughout Aincrad. Asuna asks for a temporary leave of absence from her guild and Heathcliff, the leader, says that he will only allow permission if Kirito defeats him in a duel. If Kirito loses, he will have to join the guild. Kirito accepts the challenge and is on the verge of winning, but at the last moment Heathcliff moves with impossible speed. The duel ends with Kirito's loss, forcing him to abide by their deal. A few days after joining the KoB, he is sent on a mandatory training run with some other members. During this exercise, he and the two others are betrayed by
Kuradeel
. Kuradeel kills the others and saves Kirito for last, but Asuna barely manages to save him. She lets Kuradeel live, but he attacks them again and Kirito is forced to kill him.
After this, Kirito announces his feelings for her, and again they ask for leave. They get married and go on a honeymoon on the 22nd floor.
While Asuna and Kirito were on their honeymoon on the 22nd floor, they receive a rumor of a ghost in the forest and decided to go check it. In the forest they found a young girl who goes by the name of
Yui
, to their surprise, she is an AI whose purpose was to monitor the mental health of SAO players. Asuna and Kirito decided to adopt Yui as their daughter.
Yui's program was saved into a crystal necklace, with the help of Kirito who excels at programming skill, to prevent the SAO operating system Cardinal from deleting Yui as a purge against interference by foreign object. This data is saved as environmental data within Kirito's NerveGear in hope of reviving Yui in the future.
Return to the Front lines
After the second week of their honeymoon they get a call: the boss room of the 75th floor has been found. They return to the front lines and participate in the battle. During the battle Kirito, Asuna, and Heathcliff manage to hold back the incredibly powerful boss while the rest of the players attack him. After the long battle Kirito has an intuitive realization that Heathcliff is none other than Kayaba Akihiko himself and proves that fact by attacking him, revealing his "Immortal Object" status. Kayaba applauds Kirito and tells him that he will be waiting on the 100th floor as the final boss... unless Kirito wishes to have a duel right now.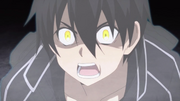 Kirito agrees despite Asuna begging him otherwise. After a few minutes of fighting, Kirito becomes enraged and uses a sword skill, and Kayaba, knowing the system all too well, takes advantage of the delay to finish him off, but Asuna quickly intercepts the blow for him, despite her paralysis, and dies from the attack. Kirito, filled with rage, attacks Kayaba thoughtlessly and is quickly struck down.
Through a final push of his will, and even delaying his death, he stabs Kayaba in the chest with Asuna's blade. Kayaba and Kirito both vanish, ending up in an area located above Aincrad along with Asuna. Kayaba explained his reasons as for why he created SAO before vanishing along with his castle. Kirito wakes up in a hospital bed, his body frail and weak, and vows to find Asuna.
After SAO was cleared and Kazuto wakes up in a Tokyo hospital, he wanders off to find Asuna, but is discovered by nurses and returned to his room. Tens of minutes later, he is visited by a representative of the «Ministry of Internal Affairs — SAO Countermeasures Division» who Kazuto inquires about Asuna's whereabouts, as a condition to share information about the SAO incident with them. After a short call, the representative informs him that 300 players, including Asuna, had not yet woken up from their comatose state. At some point, Kazuto, leaving a note of his plans, attempts to return to the world of SAO via his NerveGear to find his lover, but, unfortunately, receives the error message «Error: Cannot connect to server».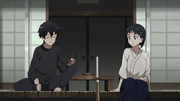 By the time two months have passed after the incident, Kazuto returns home to his family and has completed his rehabilitation, which allowed him to freely move again. As soon as he was able to move freely, he started visiting Asuna, at the hospital she was admitted to, every 3 days. One day, during one of such visits, Asuna's father,
Yuuki Shouzou
, and
Sugou Nobuyuki
, the latter being a person who Kazuto had not met before, come into the hospital room. After Sugou is introduced, he tells Shouzou that he plans on having Asuna wear her bridal gown the next month. As soon as Shouzou leaves the room, Sugou reveals his true self to Kazuto. Sugou starts stroking Asuna's hair in front of Kazuto and tells the boy that he plans on marrying Asuna, who is still in a comatose state, even mentioning that he has the right to do so, because his department at RECTO is responsible for maintaining the SAO servers and, in turn, keeping Asuna alive. Just before leaving the room, he invites Kazuto to the wedding, leaving the boy helpless to do anything. 
That evening, Kazuto's sister (actually his cousin, but they act as if they're brother and sister) Suguha finds him alone in his dark and cold room in a state of deep despair and self-loathing and, after telling his sister that Asuna was out of his reach and how useless he felt, he begins crying like a child in front of her. After closing the window, Suguha comforts her brother and encourages him not to give up so easily, before supporting him and gently lowering him onto his bed, where after awhile, his cries turn into a peaceful sound of sleep.
The next morning, Kazuto wakes up and finds Suguha sleeping next to him in her pajamas. He then recalls what had happened the night before and, due to Suguha's encouragement, has renewed his resolve to save Asuna. Shortly after waking his sister up, who runs out of the room in embarrassment after realizing what had happened, he receives an e-mail from Agil, that contained a picture of a virtual world, where a bird cage could be seen in the foreground and in that cage was a girl who looked just like Asuna. Kazuto immediately calls Agil to ask him about the photo and agrees to meet him at the Dicey Cafe. After the shortest shower in his life and drying his hair in a rush, he quickly heads out to the cafe by bike.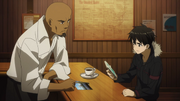 Once there, Agil, or Andrew in real life, brings out a rectangular package, a client for the new VRMMO game called ALfheim Online, and tells him about NerveGear's successor, AmuSphere and the game. He then tells Kazuto that the picture with the girl that looks like Asuna was taken inside of the game, at the top of the World Tree, when a group of players came up with the idea of using a multi-stage rocket flight formation to propel themselves, which allowed them to reach the lowest branches of the tree, where they took the screenshot. After noticing that the game was designed by RECTO Progress and remembering that Sugou, who worked there, said that he was in charge of the SAO servers, he realized that a girl who looked like Asuna in a game designed by a RECTO subsidiary couldn't have been just a coincidence. Thinking to himself that contacting the Ministry of Internal Affairs without concrete evidence was a bad idea, he asks Andrew to let him have the game client to personally confirm whether Asuna really was trapped in that game.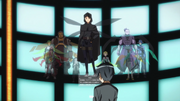 Having returned home, he returns to his room, where he inserts the ALO client into his NerveGear and dives into the game. At the character creation screen, he inserts his character name, but after realizing that Sugou was aware of his character name, he changes it from its romanized to its kana form and then continues to choose his character's race. Although, normally he would read about the strengths and weaknesses of each race, due to being pressed by time and not planning to play the game too seriously, he selects the
Spriggan
race because of its initial black themed equipment and completes the initial setup procedure. He is then sent into a vortex of light and enters the game world, floating in the air above the Spriggan capital. However, at that point, the world around him began to dissolve and collapse altogether, as he descended into the darkness.
After a seemingly endless decent and landing on his face instead of his feet, he finds himself in a deep forest (later it is revealed that the forest is close to the Sylph capital, which is on the other side of the map from the Spriggan capital). Perplexed about the mysterious anomaly and relocation and having a bad feeling, he quickly checks whether the ability to log out is actually available. Though at first he couldn't open the menu, even after several attempts, he soon recalled that the in-game menu and flight controller in ALO are controlled with the left hand, instead of the right, as it was in SAO, and is greatly relieved when he sees that the log out button is present and functioning.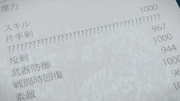 Now feeling secure about being able to log out, he decides to check the map to find out where he was, but then notices something else strange. Although his HP and MP values were normal for a starting character, the fact that he had at least 8 skills already learnt, even though he had just entered the game for the first time was out of the ordinary. Feeling that something was wrong, he checks the skill window for a more detailed view of the listed skills and is surprised to see that most of the learnt skills were nearly or already mastered, which shouldn't be possible without putting in a lot of time in training the skills, while all the skills in the window seemed strangely familiar to him. That's when he realizes that all of the skills he had were identical to his SAO skills, minus Duel Blades, which didn't exist in ALO.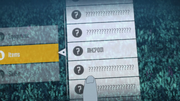 Hoping to find more clues about what was happening, he checks his item window as well, only to find dozens of lines consisting of enigmatic numbers and characters, along with pictures, all mixed up together, in other words, all the items that he had in SAO, though no longer usable, which confirmed that his SAO save data was brought over to ALO for some reason. Realizing that, Kirito hoped that one specific item would be among the various unusable items and, sure enough, he soon found the item he was looking for - MHCP001 (Mental Health Counselling Program version 1), in other words, Yui's heart, which once taken out of the inventory took the form of a tear-shaped crystal. After the crystal was tapped twice, it turned into a girl with long black hair and dressed in a white dress, named Yui, the self-aware AI who Kirito and Asuna met in the world of SAO and had adopted as their in-game daughter.
After checking the system, Yui tells Kirito that the ALO server is a copy of the SAO servers, using the same graphics engine, but an older version of the Cardinal System and different game components. Yui also checks the data of Kirito's avatar, since he asks her why his SAO data appeared in ALO, and tells him that the game uses an almost identical save data and skill proficiency format to the one SAO used, which is why he was able to inherit his skills, but, as the data denoting HP and MP was in a different format, he was not able to inherit his SAO values for them (though there was no MP in SAO anyways). She also warns him that his items are corrupted and should be disposed of before the system's error detection protocol detects them, though his abnormal skill values should not be a problem, unless a GM checks them directly. After Yui takes the form of a Navigation Pixie, when Kirito asks her what was she supposed to be in the game, Kirito asks her about flying in the game and she tells him how to call out and use his controller for flight. After getting the hang of how to use the controller, he asks her where the closest town was and was told that the closest town is Sylvain and that other players are approaching, one of them being chased by 3 others. Hearing that, Kirito gets excited about the battle and decides to go take a closer look at it, using the menu to take out his initial sword, which he calls lousy and too lightweight, and uses his controller to fly to the scene of the battle.
Once there, due to not having practiced landing, he crash lands near the 3 Salamanders and the Sylph, named Leafa, who the Salamanders were hunting, right before she charges at the Salamanders. Even though Leafa tells Kirito to run away, after noticing that he was using starting equipment, he only reproaches the Salamanders for ganging up on the girl, angering the Salamanders. Two of the Salamanders move in to sandwich him, one of them charging Kirito, while the other waited for a few seconds longer to kill him as he dodges the first attack. However, Kirito easily stops the first attack by casually sticking out his left hand and activating «Guard», which he uses to grab the tip of the lance aiming at him and using the momentum to throw the attacker at his companion, who was approaching him from behind, and the two Salamanders sink to the ground after colliding. 
After confirming with Leafa that it was alright to kill the Salamanders, he draws his sword, gets into his attacking stance and charges at one of the Salamanders with incredible speed. Because the damage done in ALO depends on the speed the blade is swung at (which in turn depends on how fast the player's brain is able to receive, process and react to the signals sent by the FullDive system, which can be trained through extensive playtime), among other things, the speed of Kirito's attack does sufficient damage to kill the Salamander in one swing. He then gets into position and mercilessly charges at the other Salamander, whose attack Kirito had dodged and who was still trying to find where the boy had disappeared to, and slices the guy in half at a speed that even the effect flash isn't able to keep up with, easily killing the Salamander. Looking up at the leader of the party, Kagemune, he gets into a relaxed posture and asks whether he was going to fight as well, but Kagemune only smiled as he refused.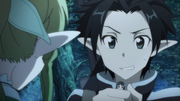 As soon as Kagemune had flown away and the
Remain Lights
of the two other Salamanders disappeared, Leafa asks the boy about what he expects her to do now, to which he responds by joking about her hugging him. Before Leafa is able to get back at him,  Yui comes out of Kirito's breast pocket, telling Leafa that she would only let Mama and herself stick to Papa. Kirito reacts by wrapping both of his hands around the Pixie, not knowing how to explain what she was to Leafa who then asks whether Yui was a Private Pixie, which was the prize of a lottery that took place at the launch of the game, and Kirito uses confirms this to cover Yui's true nature. Leafa, who has already loosened up after the encounter with Yui and finding out that Kirito got lost, she decides to thank Kirito by treating him to a drink and Kirito decides to use the opportunity to find out more about the game, especially about the World Tree, from Leafa, so they decide to travel to the nearest town, Sylvain. Before they depart, Kirito notices that Leafa is about to take flight without using the controller and asks her how she is able to do it, therefore she shows him the trick to Voluntary Flight.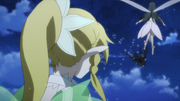 After a humorous first attempt at flying without aid, with Leafa's help he soon gets the hang of flying without the assistance of the controller and they proceed with flying towards Sylvain at high speed. At the city, after a brief encounter with
Recon
, they enter a cozy inn and pub where they order their drinks and deserts.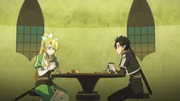 Kirito then asks Leafa about the World Tree, as he wants to get to the top of tree, and learns that it is the grand quest of ALO, as the first starting race to reach the top of the tree will be turned into the legendary race of ALFs and that nobody has managed to complete this quest yet, even tough the game has been online for a year now. Surprised by Kirito's determination to reach the top of the tree as soon as possible, no matter how difficult of a task it is, and seeing the familiar despair in his eyes, despite his smile, she volunteers to take him to the capital of ALfheim,
Aarun
, where the entrance to the World Tree lies. As there is no method of instantaneous travel in ALO, they would have to fly to the city, which would take hours, so, as Leafa had to log out already, they agree to meet up again the next day and Leafa tells him that he can use the inn room to log out, as logging out instantly can only be done inside the player's home territory or by using a tent or inn outside of the territory.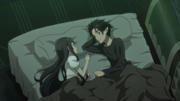 Puzzled by Leafa's actions, though grateful for her help, he decides to follow her advice and use the inn room to log out. As a sudden change from standing to a lying down causes a strong sense of vertigo, he decides to use the "sleep off" approach to log out, literally falling asleep, which would automatically log him off. As he laid in bed, Yui returns to her original form and asks whether she could sleep with him before he logs out. Although surprised by the request, understanding Yui's wish to be exposed to new data, he agrees and makes room for her. He falls asleep as he promises to Yui that as soon as Asuna is safe, they will purchase a house in-game and live as a family again.
When Kikuoka, who is in charge of net crimes division calls him to a pastry shop to chat, he finds out about «Death Gun». Hearing about the potential threat Kirito agrees to investigate GGO for a fee. Kikuoka sets up a hospital room for Kirito to dive in, and Nurse Aki (the nurse that took care of him during the SAO incident) to observe any abnormalities in his heart rate and everything related to his health and mental stability during he dives. Before he perform the first Fulldives, he tells Nurse Aki how he killed 3 Laughing Coffin members (one was Kuradeel in order to protect Asuna, and the other two were when him and 50 other front line players had attacked their secret base to stop this killing guild from action). Upon converting, he is stunned at his avatar appearance being extremely feminine. He encounters Sinon asking for help. She offers to help him get started. Kirito, with minimal funds and against Sinon's advice participates in the bullet dodging game. Kirito, using his previous experience, successfully wins the game and gains a large amount of funds.
He uses all his funds in buying a laser sword named Kagemitsu G4, a five-seven handgun named FN Five-Seven and some equipment to participate in the 3rd Bullet of Bullets event. After a rush through the city Sinon and him enter the tournament, in it Kirito uses a never before seen battle style in which he deflects the bullets with his sword. Kirito and Sinon manage to get into the finals held the next day, although Kirito is shocked by his encounter with Death Gun.
The next day Kirito is confronted by Suguha, who discovered him in a video games news site. Kirito waits for the afternoon and enters GGO, he sees Sinon and calls her to talk. In the tournament finals he finds a way to disappear from the map by swimming underwater and with Sinon they watch how Death Gun dispatches another player, they trail him to the central city on the stage, where he takes out Musketeer X and returns just in time to save Sinon from Death Gun, who managed to slip behind her, they somehow escape and hide in the desert, where Sinon tells him her backstory and Kirito comforts her.
After talking for a while they discover the secret behind Death Gun and how he got the addresses of the players and his companion would kill them in the real world, so they prepare a plan to take him down, using Kirito as a bait. During the battle Kirito senses Asuna's hand and reminds of the gun he had not used and performs the double circular skill with the gun and his sword, finally killing Death Gun and then uses a grenade to tie with Sinon in the first place.
After logging out he hurries to Sinon's house and arrives just in time to save her from on of Death Gun's accomplices, two days later he visits Shino's school and takes her to meet Kikuoka, after discussing the recent incident he takes her to the Dice Cafe, where he meets Asuna and Lisbeth, as well as a woman she saved during the incident in the post office.
He challenges «Absolute Sword Yuuki» to a duel and loses, though he did not dual wield, but discovers her secret as a MediCuboid user. He later appears to fend off a clearing guild and give the Sleeping Knights a chance to challenge a floor boss, and he brings out the «Holy Sword Excaliber» and dual wields in this battle to do so. He also reveals his Outside System Skill «Spell Blast». He along with Klein hold off an opposing Guild for three minutes before succumbing to the overwhelming numbers. He later points Asuna to the hospital Yuuki is at when Asuna tells him she wants to meet Zekken again. He helps the Sleeping Knights clear the 28th floor along with his friends, then faces Yuuki and loses again, but this time in the ALO Sword Tournament finals, though he once more did not fight with dual blades.
Recruited by Kikuoka for an experiment with a new form of VR system, developed by the mysterious company RATH, Kirito awakens in a fantasy style forest with no memory of how he got there. There, he meets a teenage woodcutter named Eugeo, who seems too life-like to be a NPC.
He meets Sinon at the Dicey Cafe, where they talk while waiting for Asuna to arrive, when she arrives, they show Sinon the GPS and monitoring devices created by Kirito for each of them to monitor each other. They proceed to talk about Kazuto's half-time job, that he does not remember anything about the time he full-dived and the system based on the acceleration of time perception for the user. Later they depart and Kirito insists to accompany Asuna to her house, but just before arriving he turns back and faces Johnny Black who was following them, he defends Asuna but is injected with Succinylcholine and is later taken in an ambulance.
Kirito wakes up in a forest in an unknown place, while wondering where he is, he hears a strange noise and when he finds the source he meets a boy called Eugeo who explains him the basics of the world and takes him to his town, In the town he meets other people, and decides to stay there. Kirito unintentionally causes Selka to run into a certain cave and get captured, causing Kirito ans Eugeo to go after her. They defeat the Goblins, but Eugeo got heavily wounded. Kirito wakes up Selka, who was lying in a cart, and Selka, with Kirito's assistance, saves Eugeo. They all go back to the village. Eugeo finishes his current Sacred Task and chooses his next, being a swordsman.
In chapter 2 it is explained that he is immersed in the Underworld to reconnect his neural pathways that were destroyed when his heart stopped as a product of Kanemoto Atsushi's attack.
Meanwhile in Underworld, several months have passed since he and Eugeo left Rulid Village and have been working as stable boys for family of farmers. On the 28th Day of the 8th Month they participate in the Zakkaria Sword Arts Tournament, where he faces Egome Zakkalight, a sixth class noble, who uses a stronger sword to get an advantage over Kirito, but Kirito turns the tables by using his «Snake Bite» sword skill to brake Egome's sword and win.
Months later he, along with Eugeo, enrolled in the Norlangarth Sword Master Academy, and became valets for the elite swordsmen. One day, Kirito is training with his mentor, Sortiliena Serlut, and after the practice, he returns to his dorm and talks to Eugeo, who reminds him that the next day, after a complete year, he'll receive the sword that was carved from the branch of the Gigas Cedar.
When he returns to the Academy with his new sword, he practices his Sword Skills to show them to Sortiliena later, but, when he attempts to perform a 5-hit Sword Skill in the forest to challenge the limit of his new sword in secret, he looses control and stains the shirt of Uolo Levanteinn, the head elite swordsman who was watching him, with mud. As punishment, he must spar with Uolo, who tries to win in one hit as always, but Kirito stops him with the 4 hits of «Vertical Square». A supervisor intervenes and declares a tie, thus, ending the duel.
Kirito has become an elite-swordsman in the academy, and thus, he now has a valet. One and a half months in the new school year, on the 17th of the 5th Month, he enters his and Eugeo's room from the window with a bag of honey pies, takes a pair for Eugeo and him, and gives the rest to their valets, Ronye and Tieze . Eugeo reminds him that they have a test about a Sacred Art that he isn't good at, so he stays in his room studying while Eugeo practices.
Days later, he goes to a picnic with Eugeo and their valets, where they tell Kirito and Eugeo about Humbert's mistreatment of Frenica, his valet. Since Eugeo gets flutered, Kirito accompanies him to Raios and Humbert's room, to talk to them, they played dumb and the matter was left as such.
Days later, Kirito's maintaining his sword with Eugeo, and both are waiting for their valets to arrive. They get worried when it turns out that the valets are running late and Kirito decides to look for them, exiting through the window. When he returns to his room, Frenica tells him that Ronye, Tieze and Eugeo are in Raios and Humbert's room. He arrives at the scene just in time to stop Raios from killing Eugeo. As they face each other, he somehow transforms his sword from a one handed to a two-handed one and uses Whirl Current to beat him, and, at the same time, cutting his arms off.
Kirito and Eugeo get arrested for breaking the Taboo Index and are given into Alice's (now an Integrity Knight) custody the following day. They are then taken to the prison under the Central Cathedral by Alice.
Relationships
When Kirito starts to love computers, he does not like to interact with other people, including his cousin Suguha. But after completing SAO and ALO, he maintains his relationship with his friends and acquaintances from SAO and ALO. He continues to make relationships with other people as the series progresses.
In the real world he has problems establishing relationships with people, especially women, but in the games he easily makes friends even more so with women than men.
Although Kirito is focused on Asuna, he is aware that there are other girls who have feelings for him.
Abilities
Sword Art Online (SAO)
Level: 96
HP: 18500
Main Equipment:

​「Anneal Blade」 (One Handed Straight Sword - «Secret Medicine of the Forest» Quest's reward)
「Queen's Knightsword」 (One Handed Straight Sword - Dark Elf Queen's 9th floor Quest's reward)
「Elucidator」 (One Handed Straight Sword - 50th Floor Boss drop)
「Dark Repulser」 (One Handed Straight Sword - Player-made by Lisbeth)
「Coat of Midnight 」 (Leather Coat - 1st Floor Boss drop) - First black coat
「BlackWyrm Coat」 (Leather Coat - Player-made by Ashley) - Last black coat
「Throwing Pick」

a type of weapon that is small, easily concealed.
SKILL SLOTS[5]
One Handed Sword
Dual Blades
Blade Throwing
Parry
Battle Healing
Searching
Tracking
Hiding
Night Vision
Extended Weight Limit
Sprint
Fishing
One Handed Sword Skills
Reaver
Slant
Vorpal Strike
Weapon Break
Deadly Sins
Sonic Leap
Unarmed Skills
Martial Arts
Flash Hit
Embracer
Meteor Break
Escape
Dual Blades Sword Skills
Double Circular
Starburst Stream
The Eclipse
Snake Bite
Alfheim Online (ALO)
HP: 400
MP: 800
New Equipment:

Black Iron Great Sword - Large Black Sword bought in Sylvain. Replaced by a new Long Sword in the 7th Volume.
Long Sword - A Long Sword that replaced the Black Iron Great Sword as his main default sword.
Excaliber - The strongest sword known in the SAO/ALO Universe.

Equipped Skills:
SKILL SLOTS[6]
One Handed Sword
Blade Throwing
Parry
Battle Healing
Searching
Tracking
Hiding
Night Vision
Extended Weight Limit
Sprint
Fishing
Outside System Skills
Arms Blast (from SAO) - Destroys a weapon by attacking the weakpoint of one with a powerful blow.
Spell Blast (from ALO) - Intercepts a spell using a sword skill.
Skill Connect (from ALO) - Allows Kirito to chain his sword skills.
Bullet Deflect (from GGO) - Allows Kirito to deflect bullets with his sword.
Gun Gale Online (GGO)
Equipment:

Kagemitsu G4 - A blue light saber created by GGO developers on a whim to imitate a classic movie.
FN Five-seven - A semi-automatic pistol use to close in distance between the enemy.
*Note: Many of his skills have been demonstrated in ALO and GGO, except they mostly function without system assist and depend on Kirito completely.
Underworld (UW)
Life: 3289 (Chapter 1)
Object Control Authority: 48 (after the battle with the goblins)
Sword styles:

Aincrad style - a style that Kirito invented due to his knowledge of Sword Skills in SAO. Moves used so far:

Sharp Nail - (3-hit combo)
Sonic Leap - (1-hit strike) a charge-type sword skill that dashes toward the enemy to deal a downward strike
Horizontal - (1-hit strike) a simple sword skill slashing horizontally
Snake Bite - (2-hit combo) two left and right swings that target the opponent's weapon, with a chance of breaking the weapon.
Vertical Square - (4-hit combo) a mid-level sword skill tracing the shape of a square
Note: He is able to use any of his Sword Skills from SAO, but, currently, he can only use up to 4-hit skills.

Celulute Style - a style that Kirito learnt from his mentor, Solterina Celulute:

Whirl Current-  a two-handed Sword Skill capable of performing two hits.

Equipment:

Goblin Sword - a sword that Kirito stole from an unnamed goblin and used in the fight against «Ugachi».
Sword of Blue Rose - Shared for a brief time with Eugeo until he got his own equivalent sword made of a Gigas Cedar branch that received the most life from the Gods Solus and Terraria.
Wooden Sword - Kirito's own sword that is made of a branch of the Gigas Cedar. It is equal to Eugeo's Sword of Blue Rose. It is black in color.
Notable Achievements
Cleared the cursed death game, «Sword Art Online»
Reached the top of the World Tree, «ALfheim Online»
2nd Place in «ALfheim Online» Cross Territory Race
2nd Place in «ALfheim Online» Swordsman Tournament (without Dual wielding)
Co-winner of the Third «Bullet of Bullets» (alongside Sinon), «Gun Gale Online»
Owner of the legendary sword «Excaliber» in «ALfheim Online»
Character Art Designs
Trivia
Kirito rides a bike which has also had a multitude of passengers including Asuna, Suguha, and Shino.
Kirito is a two-time first place winner for the Top 10 Male Characters in the Kono Light Novel ga Sugoi! awards (for 2012 and 2013). He placed third back in 2011.
So far, in the LN, Kirito was the most fortunate person in the 3 games. In SAO, because of being a beta tester and knew a lot of strategies in surviving, and barely survived the 74th floor boss; in ALO, retaining his skills in SAO; in GGO, getting the avatar «M9000» type that many male players dream of having one day.
Kirito's favorite skill is fishing. He even continues raising his fishing skill in ALO.[7]
Kirito uses a self-made PC with a 24 GHz octa-core CPU.[7]
If Kirito were to be an animal, he would be an orange wolf.[7]
Kirito's favorite food is Teriyaki chicken burgers.[7]
Kirito used to dislike spring onions until Asuna cooked it for him.[7]
Kirito said he would've went after Asuna sooner, if she hadn't been cute, and also regretted not going out with her sooner, as he only ate good food in SAO after getting along with Asuna. [7]
Kirito tried wielding three swords but gave up since, apparently, it felt like his teeth would fall out.[7]
Kirito likes to pick on the cheeks of sleeping girls. He has already done that with Asuna, Yui and Suguha.
Kirito said that it seemed that everyone in SAO, including Asuna, viewed him as being older than he really was and, since he had never denied it, he had trouble admitting it to her at some point in the story.
Kirito suspected Asuna to be older than him but thought she probably viewed him older than he really was.
Kirito got an extremely average IQ score in the test he took during middle school.[7]
Ever since the second year in SAO, Kirito has been known to sleep a lot. His sleep also seems to be an "AOE" skill, as people looking at him sleeping, with Pina and Yui sleeping on him, get sleepy themselves. He himself states that sleeping when you can is the 2nd most essential point of the Aincrad-style[7][8][9]
Kirito was an ideal person whom Kawahara wanted to become. Kawahara commented that he always hesitate to act, pointing out that it took him seven years to finally apply for the Dengeki Award.
References