| | |
| --- | --- |
| | Spoiler Alert: This article or section contains details about plotlines not covered in the anime. Do not proceed unless you wish to be spoiled. |
This article is missing some information.
You can help by adopting it and adding the missing information.
Missing Information: Appearance, Alicization Arc Chronology, proper chronology for other arcs
This article is open for adoption.

Kikuoka Seijirou (菊岡誠二郎, Kikuoka Seijirō?), known as Chrysheight (クリスハイト, Kurisuhaito?) in «ALfheim Online» (ALO), is a supporting character in the Phantom Bullet Arc and Alicization Arc, as well as a reoccurring character throughout the Sword Art Online series. He allegedly works for the Ministry of Internal Affair's Telecommunications Bureau, Advanced Network Division, Second Office (the «Virtual Division»)[3] and, at some point after the end of the Sword Art Online incident, began playing ALfheim Online for research purposes. However, Seijirou is actually a Lieutenant Colonel of the Japan Ground Self Defense Force, who voluntarily transferred over to the Ministry of Internal Affair's Telecommunications Bureau for the sake of his plans on Project Alicization.[4]
Background
Edit
Kikouka Seijirou was an investigator in the «Sword Art Online Case Victims Rescue Force», and the one who told Kazuto which hospital Asuna was in.[3][5] Though he is stated to be part of the virtual division, Kazuto suspects he is part of the JSDF after tailing him.[6] He takes advantage of Kazuto's gratitude by using him as an investigator for issues, and uses other people like watchdogs over the VR network.
Seijirou was also one of the original 1,000 beta testers for the original Sword Art Online. However he did not transfer over to the full version of Sword Art Online because he realized that the technology could be used for more than just military training programs and started working on Project Alicization.[4]
Chronology
Edit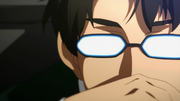 On July 25, 2025, Seijirou had the SAO Survivor School organise an emergency counseling session with Kazuto, to his surprise, in order to gather more information regarding the events of SAO, and its aftermath. The game's logs only displayed the locations of players at certain times and, with Kayaba Akihiko's death, Seijirou wanted to hear Kazuto's story. Kazuto, after informing Seijirou that he had to be somewhere later, agreed to tell him everything that happened: from the incidents in SAO, to Kirito's "victory" over Heathcliff, and then explained the situation after he discovered that Asuna, along with 300 other SAO players, was trapped by Sugou Nobuyuki, and how he came to locate her in ALfheim Online.
Seijirou was later seen calling Kazuto through his cellphone.
On December 7, 2025, Seijirou invited Kazuto to meet with him in a cafe, where he introduced the Death Gun problem to him. The two debated how Death Gun could kill through the tamper-proof, safety-conscious AmuSphere, concluding that such a feat was impossible. However, Seijirou convinced Kazuto to investigate the matter for a sizeable reward.
After the death of Pale Rider on December 14, Seijirou was contacted by Asuna and requested to log in to ALfheim Online, where he was questioned by her to discover the true reason behind Kazuto converting his avatar to Gun Gale Online. After extreme pressure, Chrysheight revealed everything to Asuna.
In the resolution, Seijirou met with Kazuto and Asada Shino on December 16 for a debriefing of the incident and apologized for the danger.
On July 5, 2026, it was revealed that he was a Lieutenant Colonel from the Japanese government's Self-Defence Force, and was in charge of Project Alicization. He oversaw its conception and formulation, directing the soul cloning of newborn babies and then the acceleration of the Underworld society.
It was also revealed that he had taken advantage of the «Gun Gale Online Incident» to form a relationship with Kazuto. His true goal was revealed to have been enlisting Kazuto's help for Project Alicization.
This section is missing some information.
You can help by adopting it and adding the missing information.
This section is open for adoption.
This section is missing some information.
You can help by adopting it and adding the missing information.
This section is open for adoption.
This section is missing some information.
You can help by adopting it and adding the missing information.
This section is open for adoption.
Seijirou is a man who likes talking about disgusting things. For example, he excitedly talked about the making of a Kiviak in great detail in a cafe.[3]
Seijirou's character name, Chrysheight, which is formed from the English words «Chrysanthemum» and «Height»[7], comes from Seijirou's family name, Kikuoka (

菊岡

?

), which is written using two kanji: Chrysanthemum (

菊

,

Kiku

?

) and height (

岡

,

oka

?

).[8]
Chrysheight's skill as a mage in ALfheim Online is acknowledged by General Eugene.[3]
In the web novel version, all of Seijirou's family members died when he was a baby in the 1980s due to an air traffic incident. According to Kirito's memory, one of the proposed causes for the incident was a fighter misfiring a missile.
References
Edit
↑

Extra Edition credits

↑

SII Episode 1 dub credits.
Ad blocker interference detected!
Wikia is a free-to-use site that makes money from advertising. We have a modified experience for viewers using ad blockers

Wikia is not accessible if you've made further modifications. Remove the custom ad blocker rule(s) and the page will load as expected.