Eugene
Talk

0
345pages on
this wiki
| | |
| --- | --- |
| | Spoiler Alert: This wikia contains details about future plotlines described in the light novels. Do not proceed unless you want to be spoiled. |
Eugene

Personal Information
Display Name (Kanji)
ユージン
Display Name
Eugene
Epithet
Salamander's Strongest Warrior
Gender
Male
VRMMORPGs Played
«ALfheim Online»
Affiliation
Salamander Armed Forces
Family
Salamander Lord «Mortimer» (brother in-game and possibly in real life)
Media
Voiced By
Kenta Miyake
First Appearance
Novel
Volume 3 Chapter 4
Anime
Episode 19 (Cameo)

Episode 20 (Actual Appearance)
General Eugene (ユージン, Yūjin ?) is the head of the Salamander armed forces and later the New Aincrad clearing army. He was considered the strongest player in ALfheim Online until he was defeated by Kirito in a one-on-one duel during the Conference of the Cait Sith and Sylph lords.
Background
Edit
He is Lord Mortimer's brother in-game and in real life as well. He uses the second most powerful weapon in the game, the Demonic Sword Gram.
Chronology
Edit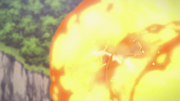 General Eugene intended to disrupt the Cait Sith and Sylph alliance conference. Earlier, Recon manages to learn of the attack and warns Leafa. She and Kirito rush to stop the confrontation, but Eugene challenges the Spriggan to a one-on-one duel. At first, Kirito was forced to defend himself against the onslaught of the Earth-style weapon of Eugene, but Kirito takes Leafa's katana to prepare for his notable Dual Blades. With this extra blade, Eugene could not breach Kirito's defenses and was quickly defeated. After the duel, he was revived by Sakuya and leaves the scene with his forces on good terms.
New Aincrad
Edit
When the New Aincrad is released, he is shown to be the head of the Aincrad clearing force and once again faces Kirito on Christmas Eve to test the latter's new legendary weapon, Holy Sword Excaliber.
At some point, he compiles one of the strongest Original Sword Skills, the 8-hit Volcanic Blazer. One day, he visits Kirito and Asuna's home, unfortunately, coinciding with Sakuya's visit. The entire visit was noted to have been very tense.