Dual Blades
Talk

4
628pages on
this wiki
| | |
| --- | --- |
| | Spoiler Alert: This wikia contains details about future plotlines described in the light novels. Do not proceed unless you want to be spoiled. |
Dual Blades

Kana/Kanji

二刀流

Romaji

Nitōryū

Sword Skill Information
Weapon
User(s)
Debuts
Novel
Anime
Dual Blades (二刀流, Nitōryū?, lit. Two Sword Style) is a Unique Skill in Sword Art Online which allows the use of unique Sword Skills that are executed with two blades simultaneously.
According to Heathcliff, who is in fact Kayaba Akihiko, this skill is awarded to the player with the fastest reaction time and the chosen player is supposed to be the one who will stand against the final boss (Heathcliff) on the 100th Floor in the Ruby Palace, regardless of the outcome of the said battle. It was awarded to Kirito for being judged to have had the fastest reaction speed in the game.
In Sword Art Online, Kirito wields Dark Repulser and Elucidator for this sword equip skill.
Techniques
Edit
Kirito estimates that there are slightly more than 20 techniques to the Dual Blades skill.
In the series, Kirito has been seen using the following:
Double Circular: 2-hit combo
Starburst Stream: 16-hit combo
The Eclipse: 27-hit combo
Skill Description
Edit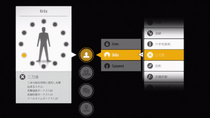 Two sword style
A skill that allows one to attack using two swords simultaneously.
Attack Speed Bonus: 1.80x
Weapon Defense Bonus: 1.50x
Cooldown Time Bonus: 1.20x
Chronology
Edit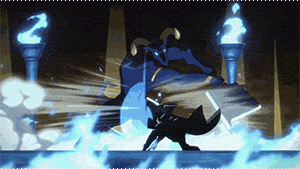 In Sword Art Online, the first time he used Dual Blades in public was against The Gleam Eyes while trying to save several members of the Aincrad Liberation Force from the boss, though he hesitated to use his unique skill until the boss created more havoc against the party members. Kirito explained to Klein and Asuna that although Kirito had discovered the skill a year earlier, he managed to keep his skill a secret from most players, except from Lisbeth, who he showed the skill to after he received his Dark Repulser from her. Because Kirito did not know the conditions of unlocking the skill, he chose to keep his skill a secret to avoid unnecessary attention and problems, training the skill only when nobody was around to see it and even after nearly mastering it, he did not used the skill against monsters unless in very dire situations. However, the next day, his fears came true, as not only was his Dual Blades was published on newspaper, but many players also chased Kirito out of his home while trying to ask him about the skill, forcing him to take refuge in Agil's shop, and Lisbeth teased him by saying that it was Kirito's own fault for publicly revealing the skill.
After the 74th Floor boss fight, he later used his skill again while in a duel against Heathcliff, though Kirito lost the duel due to Heathcliff using the system assistance past its normal limits to help him win the duel. Kirito also used his swords against the Scavenger Toads and The Fatal Scythe in the Hidden Dungeon. He used it again in a second raid against the 75th Floor boss, The Skull Reaper.
The last time he used it was against the revealed creator of «Sword Art Online», Kayaba Akihiko, whose in-game avatar was actually Heathcliff. Though Kirito knew that Kayaba was the maker of the skill and he had to use his own abilities rather than the game's skills, Kirito accidentally unleashed the 27-hit Dual Blades Sword Skill «The Eclipse» which proved to be a fatal mistake, as Kayaba effortlessly blocked every hit of the skill and his Dark Repulser broke on the final hit, leaving Kirito wide open to Kayaba's counterattack. This effectively almost cost Asuna's life, who sacrificed herself by shielding Kirito with her body. Kirito then equipped Asuna's Lambent Light, but poorly swung his Elucidator, allowing Kayaba to disarm his own sword, leaving him with the only one rapier.
The Dual Blades skill does not exist in ALfheim Online. When Kirito joined ALO and, after discovering that his SAO values were copied into ALO, he noticed that the Dual Blades skill had illegible text and was therefore corrupt, though Yui told him that he would be fine unless a GM checked it directly. However, despite this, players are able to wield two weapons, but unlike in SAO, dual wielding in ALO does not have a system-generated skill assist, nor is it influenced by the Dual Blades Skill stats. Since ALO's skill mechanics is based on the actual person's skill in using his/her weapons, the player has to actually learn and be proficient in dual wielding.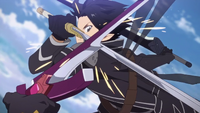 Leafa stated that there were some players who had tried dual wielding in ALO, but it needed a lot of practice and experience to actually be effective in combat, the same as in the real world, as there were only a few who could dual wield kendo swords very effectively. Kirito was able to dual wield in ALO efficiently mainly because of his experience of using Dual Blades in SAO.
Kirito dual wielded twice during the Fairy Dance Arc. He used his Black Iron Great Sword and Leafa's katana against Eugene to counter his Demonic Sword Gram's special ability, Ethereal Shift, which allowed Gram to phase through any object when a parry was attempted, but could only pass through one weapon at a time, and thus could not pierce both of Kirito's weapons. He used the same weapon combination again during his second attempt to scale the World Tree and was able to pierce through the blockade of Guardian Knights.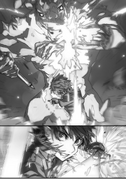 After the Fairy Dance Arc, when Sword Skills were introduced to ALO, the Dual Blades skill and, therefore, all Sword Skills that were available with the Dual Blades skill, was among the skills which were not imported by the new managers. However, Kirito can use one-handed Sword Skills with each of his two swords. Using the Outside System Skill, Skill Connect, Kirito can activate a Sword Skill with one sword and, when that skill is finished and the cooldown starts, activate certain other skills, with an initial motion similar to that of the previous skill's final motion, with his other sword in his other hand. Doing this lets him avoid the cooldown time after each skill. Though not actually Dual Blades, it was remarked by Asuna and Klein that this was extremely similar.
References
Edit