Dark Repulser
Talk

0
347pages on
this wiki
Dark Repulser

Item Information
Game
Type

Weapon

User(s)
«Dark Repulser» (ダークリパルサー, Dākuriparusā?) is a one handed sword created by Lisbeth out of a crystallite ingot obtained from a special quest, made for Kirito. Whenever Kirito uses the skill «Dual Blades», he wields it alongside «Elucidator». This weapon was destroyed during the fight with Kayaba Akihiko on Floor 75.
Appearance
Edit
Dark Repulser is an aqua-colored sword made of crystalline ingot. It's handle is a darker color than the rest of the blade and is completely straight. It leads up to a hand guard that is exactly perpendicular to the handle and is designed to look like a pair of conjoined dagger blades. At the centre of the hand guard is a large aquamarine gem. The blade itself is a deep aqua color, the base of the blade has a light-aqua attachment that causes the blade to have a natural indentation when one traces its length due to the angle that the attachment bends at.
Appraisal
Edit
DARK REPULSER +0
Long Sword / One Hand
Range: Short
Type: Slash
Attack: 680-700
Durability: 1200
Weight: 150
Requires: 60
Equip +45
Agility +12
Strength +52
Running
Background
Edit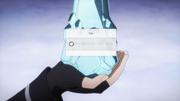 After breaking one of Lisbeth's most prized swords, Kirito and Lisbeth set out to obtain a crystalline ingot on a quest. Far away in the mountains, there is a dragon that excreted the ingot into a deep pit. After mistakenly falling into the pit, Kirito and Lisbeth find the special ingot (which is actually the dragon's excrement), but then are stuck until Kirito manages to hop onto the back of the dragon. After getting back to Lisbeth's shop, Dark Repulser is forged. Kirito swing the sword to test out it's weight and he gives 'heavy' remark and deem the sword worthy (Even though Dark Repulser is lighter than «Elucidator»).
Kirito has Lisbeth raise the reinforcement of Dark Repulser from +39 to +40. Reinforcement can only be obtained within 10 hits. Lisbeth, although nervous, takes on the challenge, achieving it at the end, but not willing to repeat it again. 
Lisbeth is hesitant to do the last hit to improve it but Kirito tells her that he feels as if he is going to wield this sword against the final boss because of the name that the system gave to the sword and Lisbeth believes these words and manages to finish the enhancement.
Unfortunately for her, Kirito promptly requests for his other sword, Elucidator, to be raised to +40 as well, to which she lets out a long sigh.