Coat of Midnight
Talk

0
703pages on
this wiki
Coat of Midnight

Item Information
VR
Type

Armor

User(s)
Coat of Midnight (コート・オブ・ミッドナイト, Kōto Obu Middonaito?) is the Last Attack bonus item acquired from Aincrad's 1st Floor Boss, Illfang the Kobold Lord. It becomes Kirito's first generation leather coat.
Due to its black color, the Coat of Midnight boosts the «Hiding» skill of a player.
Chronology
Edit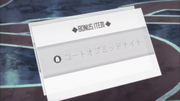 Kirito acquires this coat as the Last Attack bonus drop from the 1st Floor boss. After the defeat of the boss, some of the raid party's members bring up the issue of the Beta Testers having exclusive information about the boss, which was believed to have led to the death of the raid party's leader, Diavel. Fearing that the discrimination of Beta Testers would never end, Kirito proclaims that only a small number of Beta Testers actually had more experience and information than regular players and dubs this small group of players as Beaters to separate himself and others like him from all other Beta Testers. He then dons the coat in front of the raid party to show off his status as a Beater, thus taking all the hatred towards Beta Testers onto himself.
After this theatrical performance, he only uses the coat when he is outside the city, as he takes it off before going into town to hide his identity, since he has become Sword Art Online's most despised player.