The Audiovisual Bidirectional Communication Probe (視聴覚双方向通信プローブ, Shichōkaku Sōhōkō Tsūshin Purōbu?) is a piece of electronic machinery created by Kirito to allow Yui to interact with the real world. Under the request of Asuna, it is later used by Yuuki to allow her to attend school.
It is primarily a communication device.
Functioning
Edit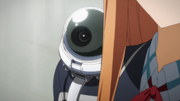 The probe is a shoulder-mounted camera that is connected to a cellphone to make use of the wireless internet and connect to a virtual space in which Yui and Yuuki were.
Ad blocker interference detected!
Wikia is a free-to-use site that makes money from advertising. We have a modified experience for viewers using ad blockers

Wikia is not accessible if you've made further modifications. Remove the custom ad blocker rule(s) and the page will load as expected.